MIRRORS, WALL HANGINGS & FLOORING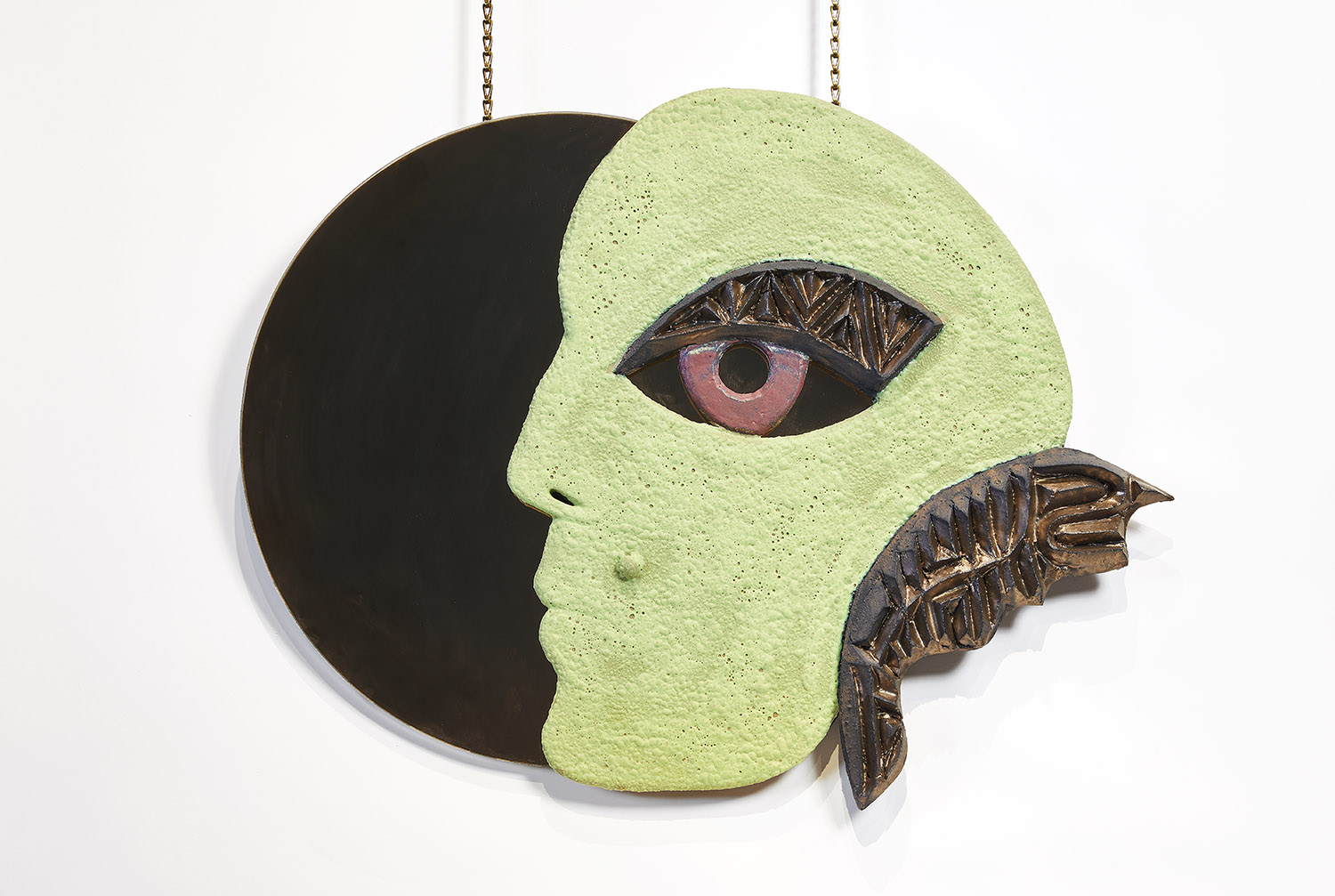 Christopher Maschinot, USA
Quiet Son Mirror, 2022
Stoneware with glaze, mirror, ply backing, steel hardware.
65cm.H x 83.5W x 5.5D / 25.5in.H x 32.75W x 2.175D
Price: $6,800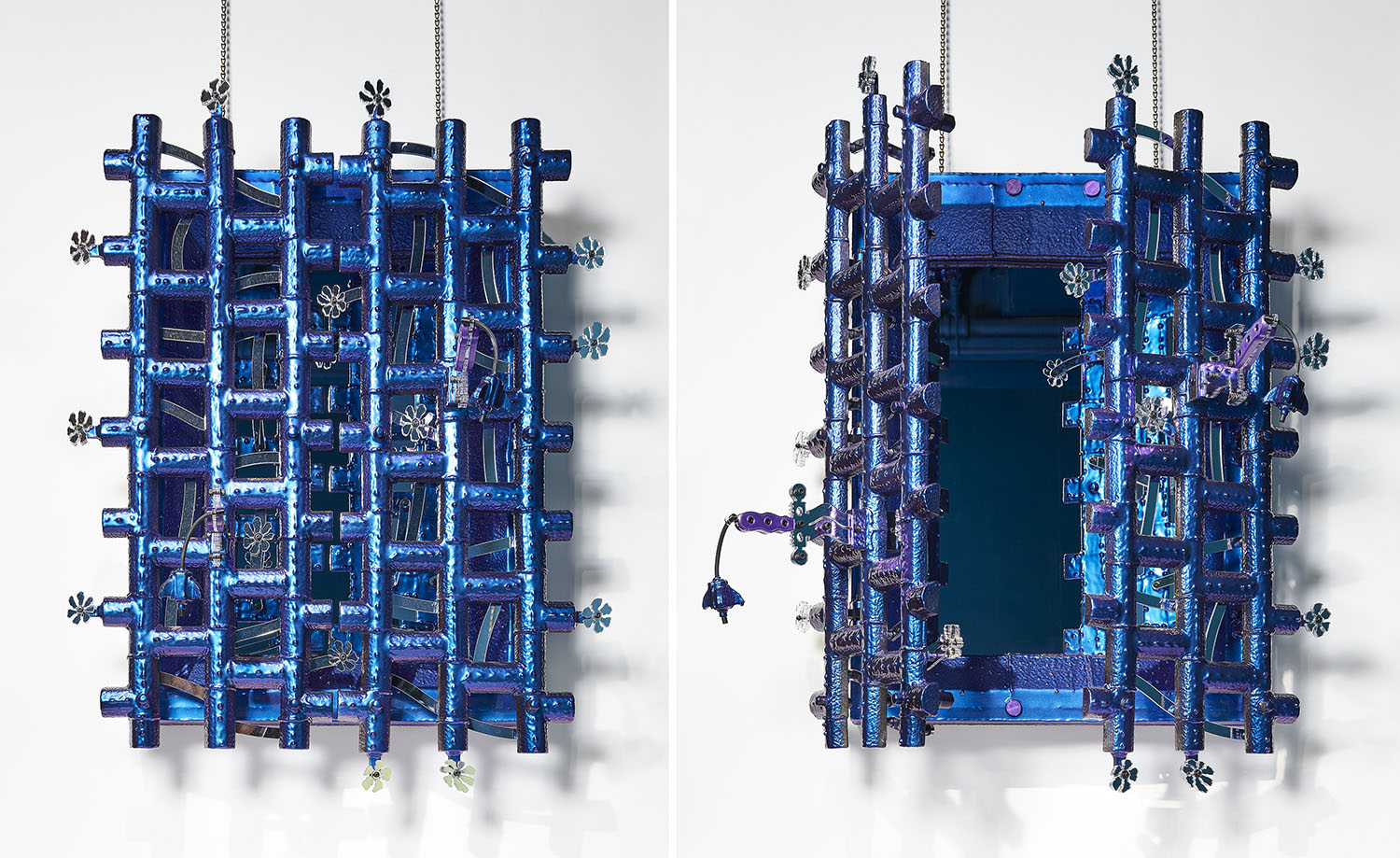 Jonatan Nilsson, Sweden
Gates of Perception Mirror, 2022
Resin, styrofoam, 3D printed PLA, rubber tube, nylon, metal hardware.
115cm.H x 87W x 45D / 45.25in.H x 34.25W x 17.75D
Price: $18,000

Jonatan Nilsson, Sweden
Thorn Mirrors, 2021
resin, styrofoam, plexiglas, 3D printed PLA, rubber tube, plywood.
65cm.H x 50W x 20D / 25.5in.H x 19.75W x 7.75D
Price: $3,500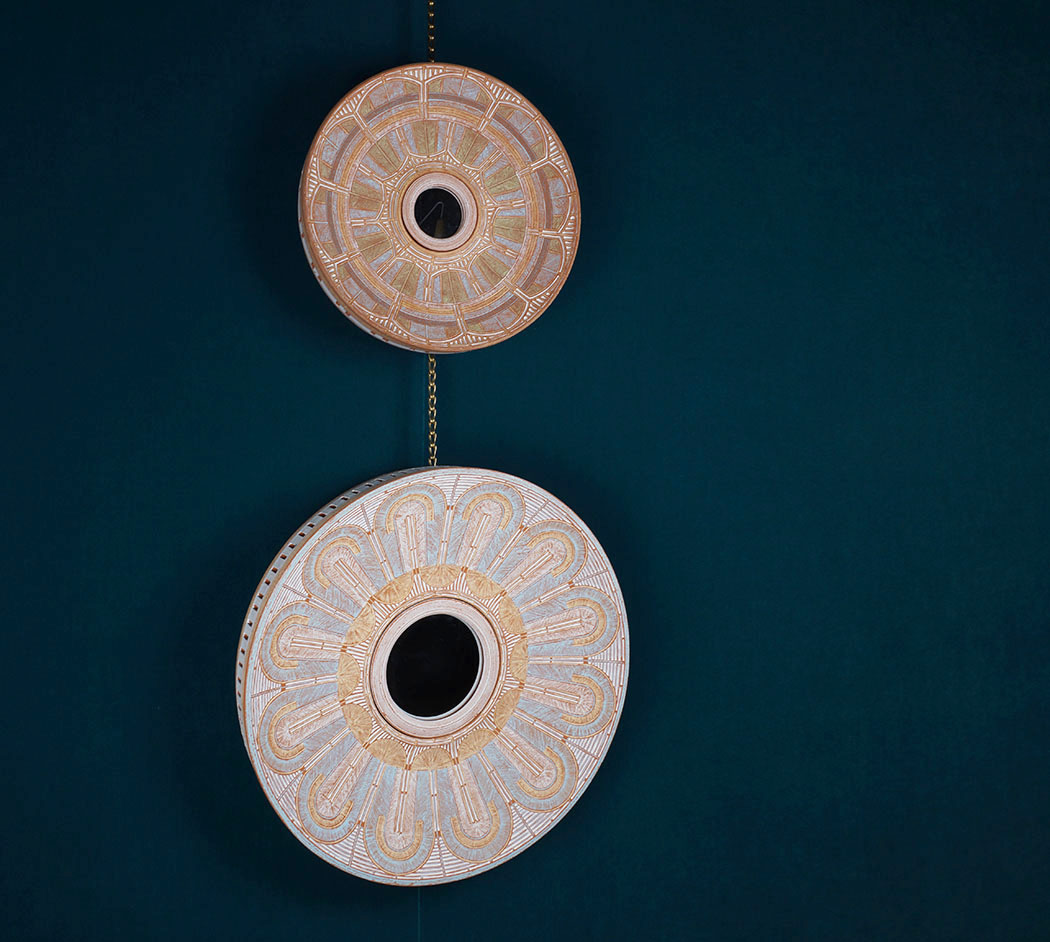 Matt Repsher, USA
Incised ceramic, colored slip, mirror, cork.
Top: Fish Plate Mirror VIII , 34cm.H x 6D / 13.5in.H x 2.5D
Price: $3,800
Bottom: Fish Plate Mirror X, 48cm.H x 8D / 19in.H x 3.25D
Price: $5,500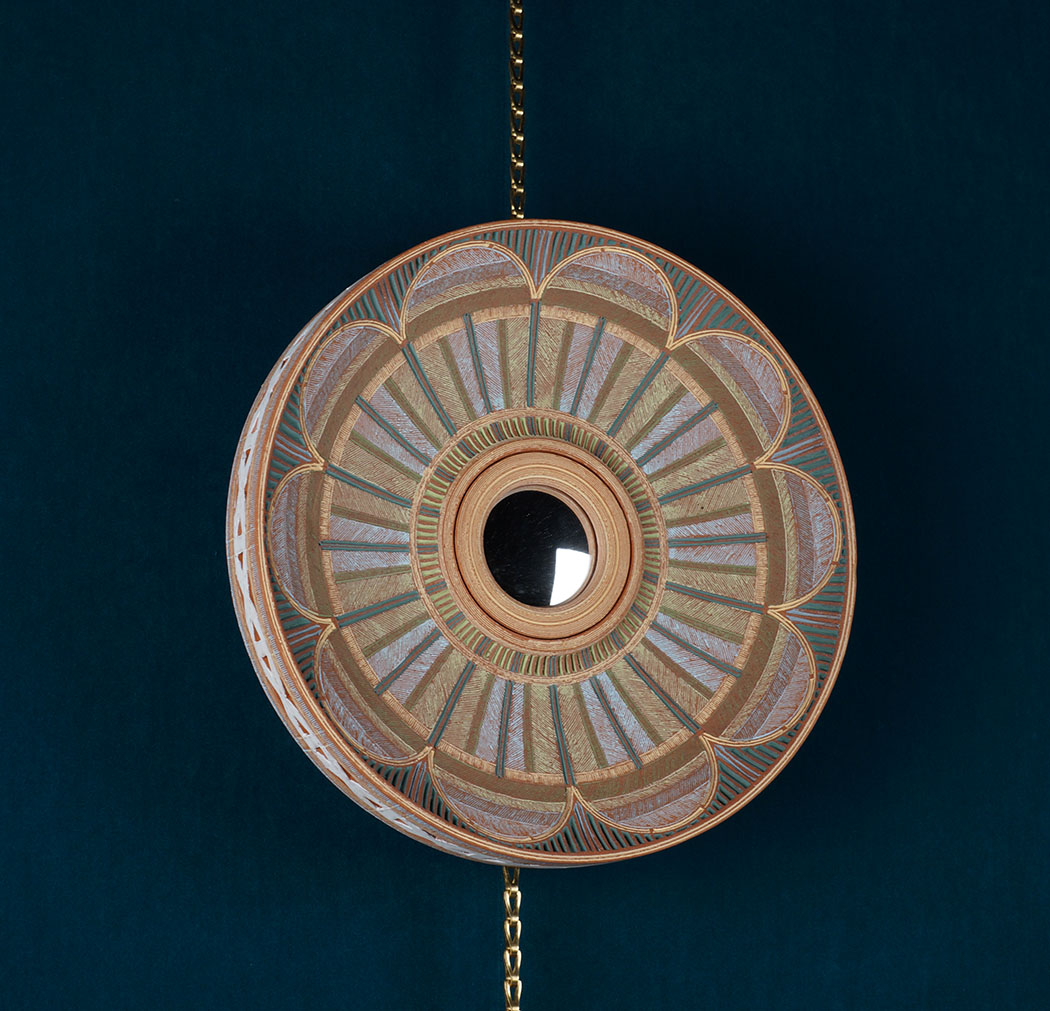 Matt Repsher, USA
Fish Plate Mirror VII
incised ceramic, colored slip, mirror, cork.
32.5cm.H x 6D / 12.75in.H x 2.5D
Price: $3,800


Inventory #2284
Rachel David, USA
Scales Mirror, 2023
Forged, formed and fabricated steel and stainless steel, brass,selenite, glass mirror.
125.5cm.H x 86W x 14D / 49.5in.H x 34W x 5.5D
Price: $28,000
WALL HANGINGS

Inventory #2240
Alex Zablocki, USA
Large Oval Platter with Glaze Stack Composition, 2023
Hand-built porcelain clay with glaze and colored porcelain aggregate, sculpted epoxy.
56cm.H x 68.5W x 11D / 22in.H x 27W x 4.25D
Price: $9,500

Inventory #2239
Alex Zablocki, USA
Large Rectangular Platter with Glaze Stack Composition #2, 2023
Hand-built porcelain clay with glaze and colored porcelain aggregate, sculpted epoxy.
50.8cm.H x 65W x 11D / 20in.H x 25.5W x 4.25D
Price: $9,500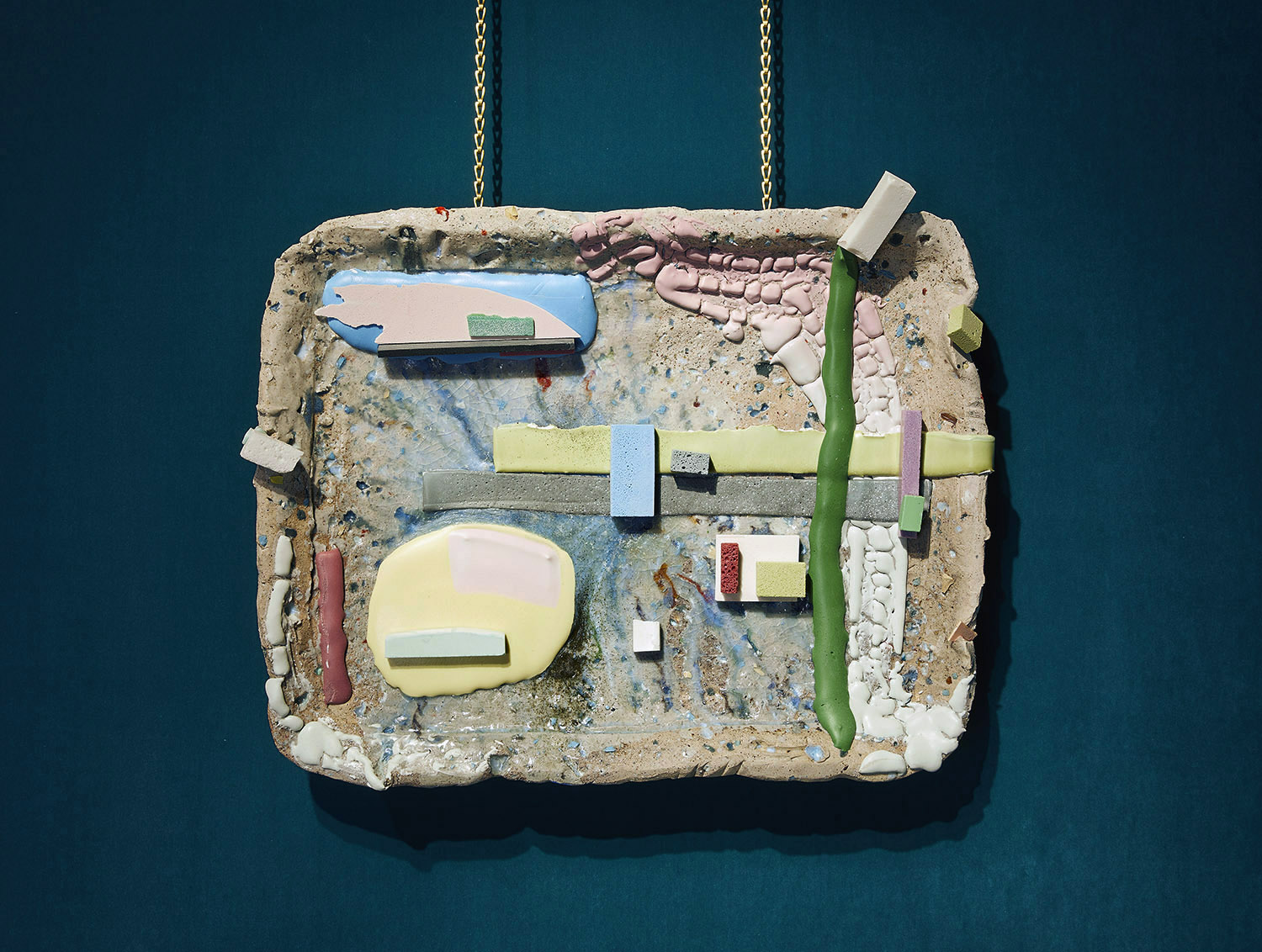 Inventory #2238
Alex Zablocki, USA
Large Rectangular Platter with Glaze Stack Composition #1, 2023
Hand-built porcelain clay with glaze and colored porcelain aggregate, sculpted epoxy.
50.8cm.H x 65W x 11D / 20in.H x 25.5W x 4.25D
Price: $9,500

Inventory #2235
Elyse Graham, USA
Python Tray, 2022
Urethane and epoxy resin.
70cm.H x 52W x 10.5D / 27.5in.H x 20.5W x 4.25D
Price: $6,500

Judit Just Antelo, USA
Rainbow Beacon, 2022
Hand knotted and woven wool and acrylic yarn, vintage silk, viscose,
cotton and lace, with solid aluminum dowel for hanging.
152.5cm.H x 106.8W / 60in.H x 42.W
Price: $11,500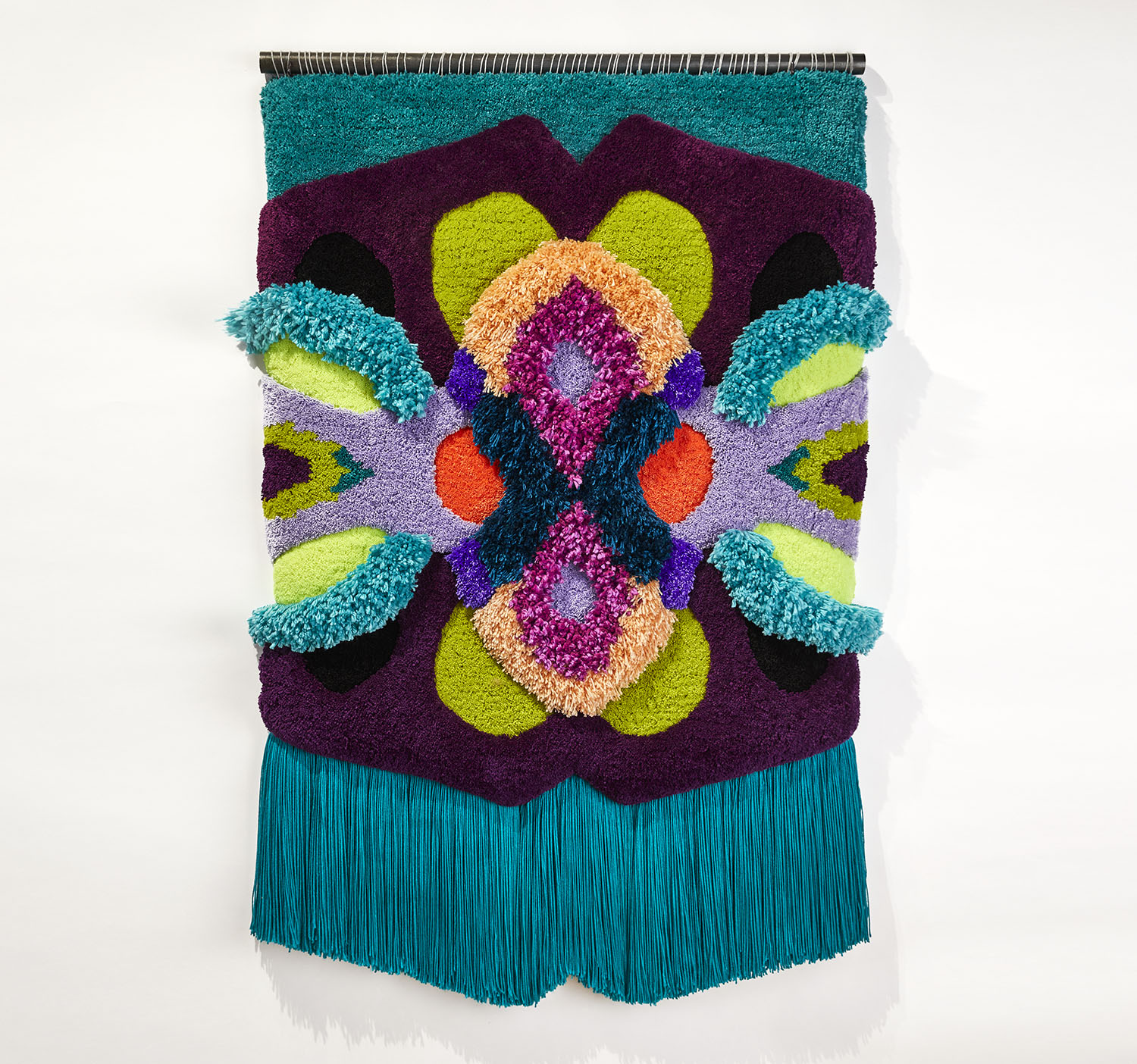 Inventory #2220
Judit Just Antelo, USA
Kaleidoscopic Portal 2: Stepping Out of Darkness, 2022
Hand knotted and woven wool and acrylic yarn, with steel rod for hanging.
182.8cm.H x 127W x 14D / 72in.H x 50W x 5.5D
Price: $20,000
hand painted canvas flooring
An alternative to carpets, floorcloths were popular in the newly independent USA, evidenced by Thomas Jefferson installing them in the White House.

Early floorcloths often mimicked the expensive floors they were protecting, such as parquet, tile, and marble. As the form became popular, the dominant method of freehand painting gave way to more readily reproducible techniques like stenciling and printing, often in particularly intricate patterns.

The floorcloths offered by Culture Object are produced by two different artists, Neelam Padte and Megan Enright, each working in their own unique style.
Both execute their work on heavy duty cotton canvas using durable modern paints and multiple protective coatings. Their floorcloths are available exclusively by commission and each one is created as a unique artwork.

We invite you to visit the gallery to see an example by each artist in daily use.
Neelam Padte
Neelam favors an expressive freehand abstract painting technique characterized by line drawings on flowing fields of color. Her imagery betrays her many years working in a traditional historical style, as stenciled patterns often float alongside wisps of brush strokes.

Neelam Padte, USA
The Ocean Waves Sing Love, 2022
Canvas, latex paint, artist grade acrylic paints, white glue, water based varnish.
243.8W x 426.7D / 96in.W x 168D
Price: $24,640
Megan Enright
Megan's current series is inspired by the history of Shaker Gift Drawings, decorative symbolic artworks shared among friends. Megan's interpretation is inflected by geometries and hard-edge abstraction, executed with deft and clean precision.

Megan Enright, USA
A Sacred Sheet, 2022
Latex paint on 17oz. 100% cotton canvas, sealed (front and back) with clear, satin, polyacrylic.
365.8cm.H x 381W x D / 144in.W x 150D
Price: $15,000