Collective Design fair 2018
Exhibiting at the sixth edition of Collective Design, a fair dedicated to the intersection of Art and Design during New York's Art Fair Week, concurrent with the Amory show and adjacent to NADA NY art fair.

Collective Design has become a vital part of New York's cultural calendar; illuminating the design process and the diversity of our material culture, promoting a spirit of discovery that resonates with new and seasoned collectors alike.
_______________________________________

Exploring the tension between organic and manufactured, freeform and biomorphic vessels will be featured in a sharply contrasting geometric environment.

Featuring the work of Dutch design duo Handmade Industrials, with their unique, hand sculpted Impose series of bioplastic vessels. The pair focus on reclaiming industrial processes and materials for use in craft based processes.

Each vessel is made in a patented, flexible single-walled mold, using bio-degradable polymers. Shaping occurs while the polymer is molten, making it both instantaneous and intuitive, resulting in wonky, organic forms. The final forms alternately resemble well worn river rocks or the flowing sculptures of Henry Moore.

Colored with unblended raw and natural pigments, gradients and patterns occur spontaneously. The ability to individually color the bio-plastic granules enables an endless variety of colors and effects. The satin-smooth but mottled looking surfaces reveal the pointillist-effect of the raw plastic pellets from which the forms are derived.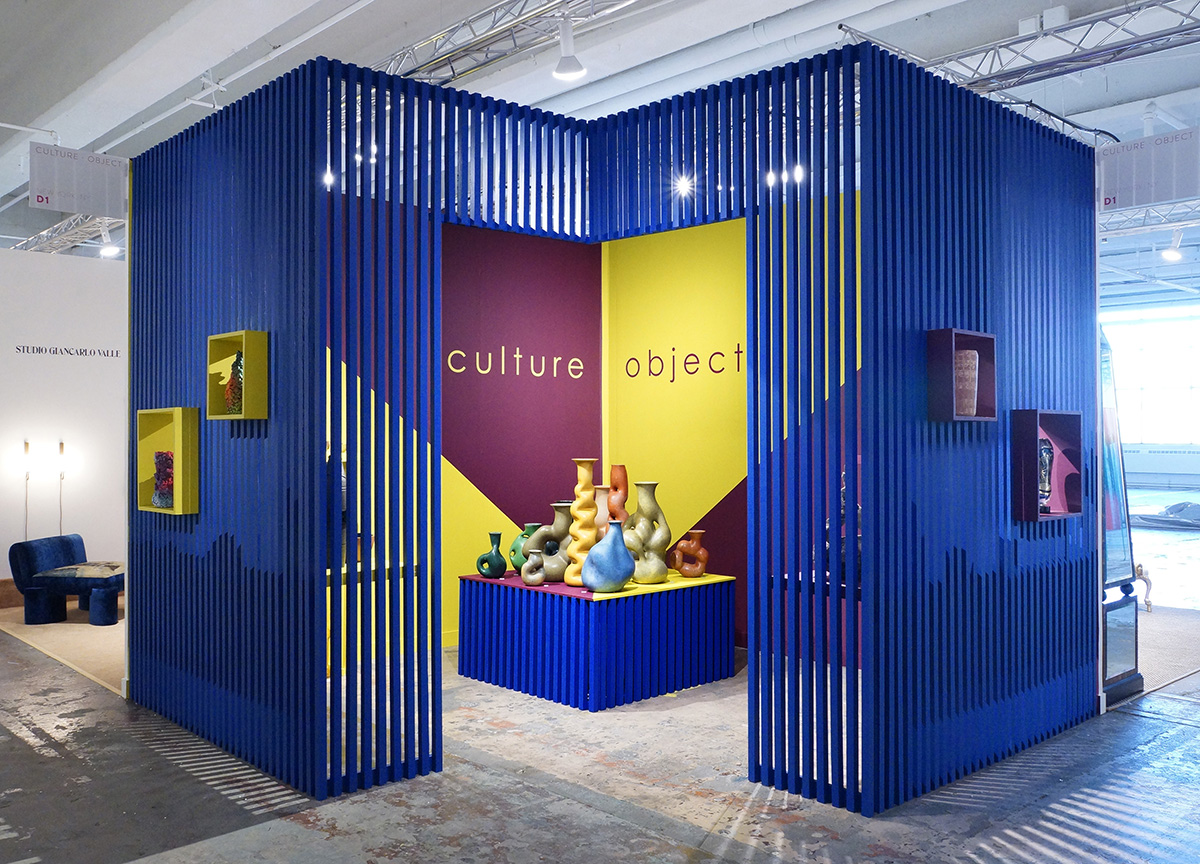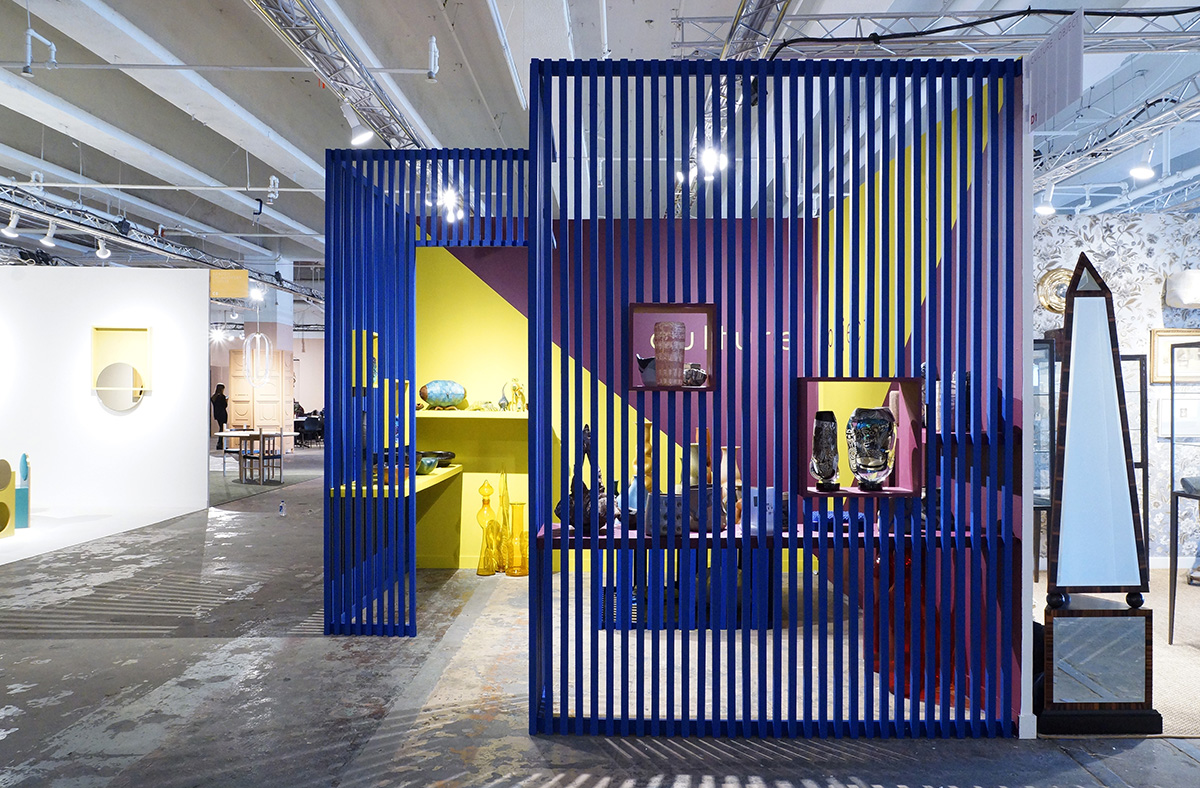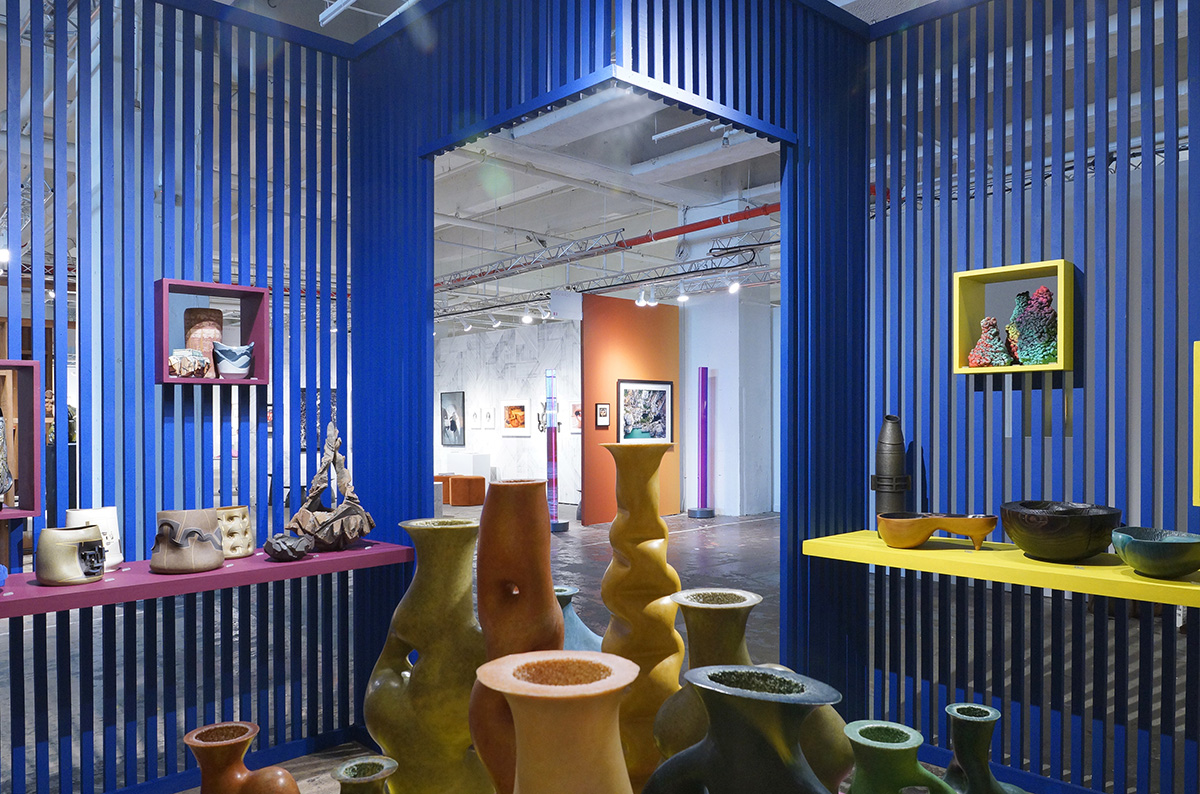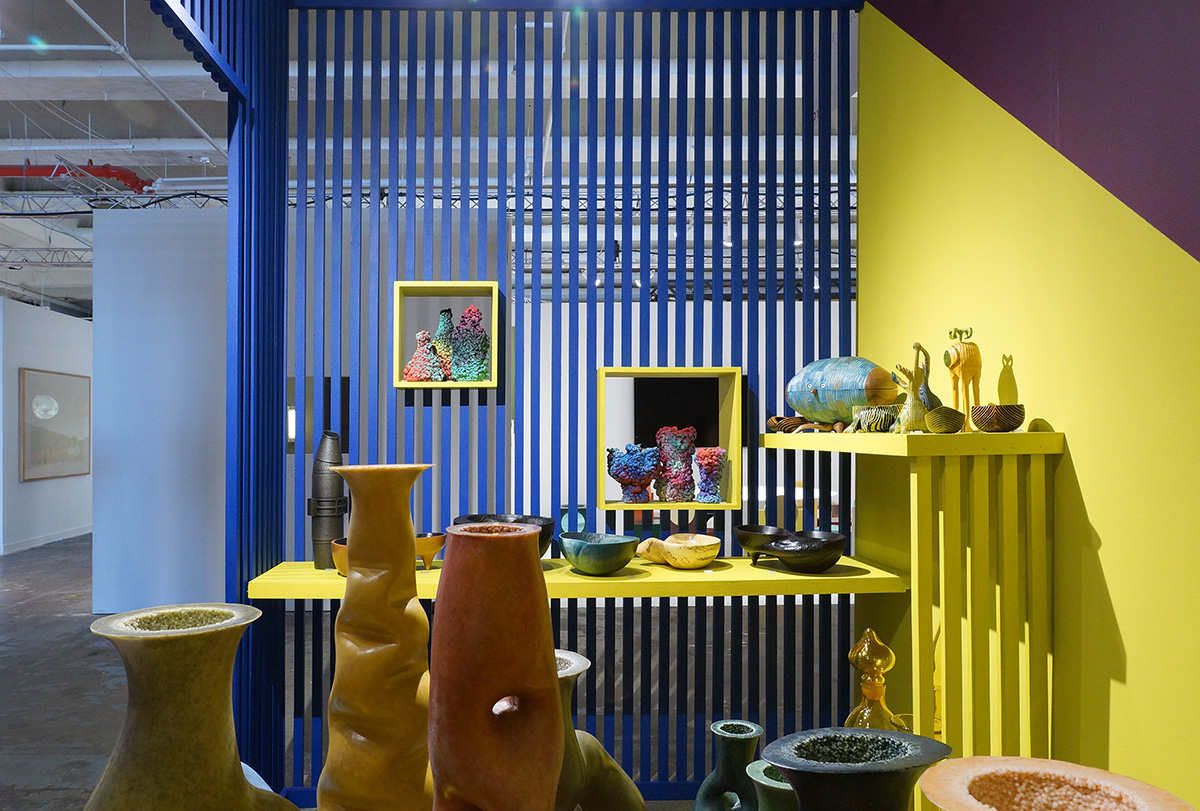 Also On View
The ceramic vessels of Venezuelan-American artist José Sierra evoke the natural and the man-made; ziggurats, calyxes, mountains and architectural maquettes.

José is focused on exploring the unlimited forms and patterns that can be constructed using simple geometric shapes. His work poetically engages the formal qualities of structure, pattern, proportion, symmetry, order, harmony and rhythm. Wheel-thrown forms are the starting point for each piece, which he then alters and combines hand-built additions. The resulting forms are both complex and bold, all the while remaining eminently functional.

Cultural context, as a minority and a woman, is central to Roan Florez' work. Applying traditional ceramic processes to experimental mixed media acts as a metaphor for the life of a second generation immigrant challenging the strictures of gender, and continually negotiating the divide between indigenous and western culture.

Based in Los Angeles, the influence of street art - the arabesques and fades of graffiti - is unmistakable in both the color and construction of her work. Trash, found objects, are at the core of each wildly transformed vessel. A can or bottle encrusted in polymer resin, spray paint and epoxy transcends its component parts to become a florid psychedelic fantasy, loaded with implicit reference to economic disparity and cultural hybridization.

Manipulating texture, space and light, Polish designer Wiktoria Szawiel has created vessels that contrast natural with synthetic to evoke the ephemeral qualities of atmosphere and the enduring qualities of structure.

Rich complexity results from the combination of unusual materials and techniques; traditional basketry and modern resins. The structure of the wicker vessel is reinforced with resin, then cut and sanded to reveal and interrupt the inner pattern. It is a dialogue between positive and negative, a binary that becomes complimentary in these vessels.