Studio Tour: Random Acts of Artistry
Nick Parker gives new meaning to the idea of upcycling
By Laura Raskin
Modern Magazine
Summer 2016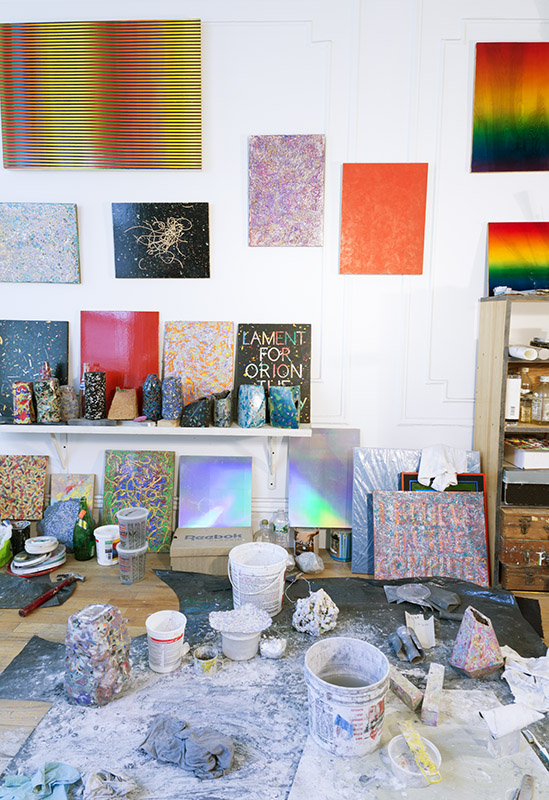 IT SEEMS ALMOST TOO FITTING that Nick Parker lives and works next to a junk shop so thick and dark with other people's castoffs that it's hard to see how one would make a path inside. Detritus is Parker's medium. At his studio in his apartment in Brooklyn's Bushwick neighborhood, the artist takes almost any and all scraps – dried paint peeled off cans, brass and acrylic shavings, leftovers from the fabrication shop where he works – and combines them in layers with pigment and cement. When the mixture is dry, he sands it down until the desired composition of swirling colors is completed to his liking. It's as though he could, and probably does, sweep the floor of his studio and then mine the pile for material. "I try not to buy any supplies," he says.
Parker, who graduated in 2008 from the Cooper Union School of Art, has used boards, chip bags, and beer cans as his canvases, but lately he's been concentrating on small vases that he forms with pieces of foam. Once the cement dries, he sands the containers with very fine sandpaper and polishes them with oil, wax, or other finishing compounds and attempts to make them waterproof. The process takes time; in four months, he can create about eight vases.

Parker's comments about himself come at an equally measured, quiet drip; he appreciates the slowness of his work and laments that he doesn't slow down even more. "It gives me a lot of time to think about what I would want to do differently. There's a lot to explore." The repetitive rules and parameters around his work, from the building up to the sanding down give him freedom. "There's always something else that is going to happen by making something in a similar way," he says. "There's a schedule to follow and it gives me time to know what to change."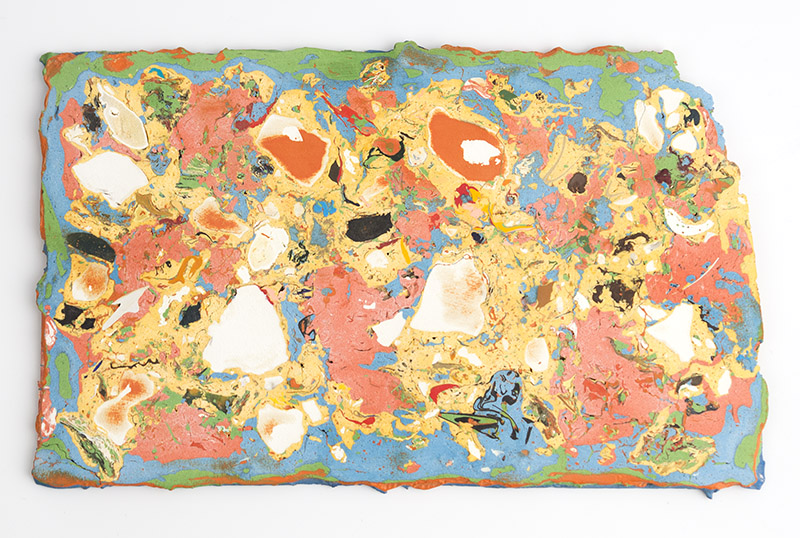 Damon Crain, an art dealer and expert in mid-twentieth-century glass, sells the vessels through his gallery, Culture Object. Crain was initially drawn to their similarity to terrazzo and Japanese lacquer work. They also have something in common with the dusty, intricate cement tiles that have lined walls, floors, and walkways in Cuba from as early as the late nineteenth century. As in Parker's work, each square inch contains a miniature world of texture and depth.
Parker has always been attracted to bright colors. "They've been in my paintings for a long time," he says. Detritus has been a similar longtime interest. He describes a business plan he and his friends at Cooper Union devised in which they would make objects out of garbage and sell them, "recycling what would be trash."
Parker grew up in Newtown, Pennsylvania, thirty miles northeast of Philadelphia. He knew he wanted to be an artist in high school, but only after he grew tired of being in a metal band. There weren't any professional artists in his family, but his father is a musician and his grandmother paints, and his mouth curls into a smile when he talks about chatting with her about her paintings. Despite his work's visual connection to specialized processes, he didn't get any formal training in ceramics or sculpture at the Cooper Union – which isn't a place where technical precision is emphasized, anyway. Though Parker's process may be routinized, the outcome is not. "The way that it's put together makes it so that the way it comes together is totally random," he says. "A lot of chance is involved."