GIANTS: The Origin of BIG in Studio Glass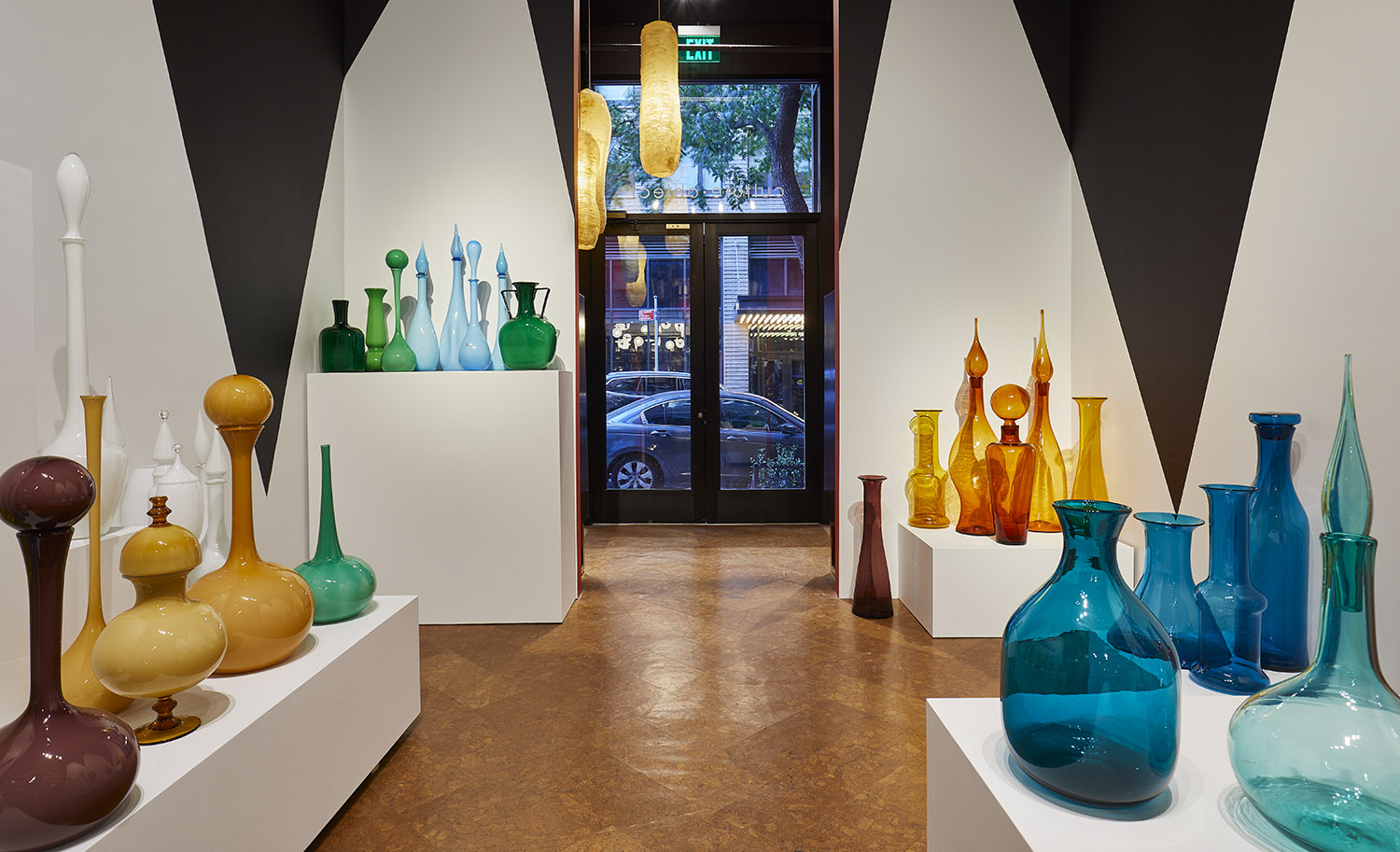 The studio glass movement is a story of the unbinding a material from the limitations of expectation. A generation of artists pushed the boundaries of technical possibility to assert a freshly compelling physical presence and extend a familiar material beyond its standard roles and manifestations. Perhaps the most enduring and simple strategy employed to these ends, was creating objects of enlarged scale. From Dale Chihuly's Seaforms and William Morris' Standing stones of 1982, to Dante Marioni's Whoppers of 1987, large-scale blown glass works have prominent place in studio art glass. Yet, this approach grew from influential historical antecedents; in the mid-20th century designers and artisans in Italy and America capitalized on its potential to transform quotidian glass forms into spectacular sculptural objects.
The glass in this exhibition originates from two distant, and improbably related locations, Tuscany and West Virginia - with the former inspiring the latter. In the Tuscan town of Empoli, the glass industry dates as far back as the 13th century, supporting the agricultural industry by producing utilitarian storage vessels. In 1926 an intrepid American importer introduced Murano glass workers to the native Empoli blowers who were biased towards the large scale and simple forms of massive demijohns, and in doing spawned a new artistic glass tradition. The results of this pairing were surprisingly successful, if not quite as anticipated. An entirely new style developed for simple, modern decorative vessels that catered largely to the American market. In a brief post-war, two-decade period of strong commercial success, several glasshouses produced distinctive and large decorative vessels that were widely distributed in America.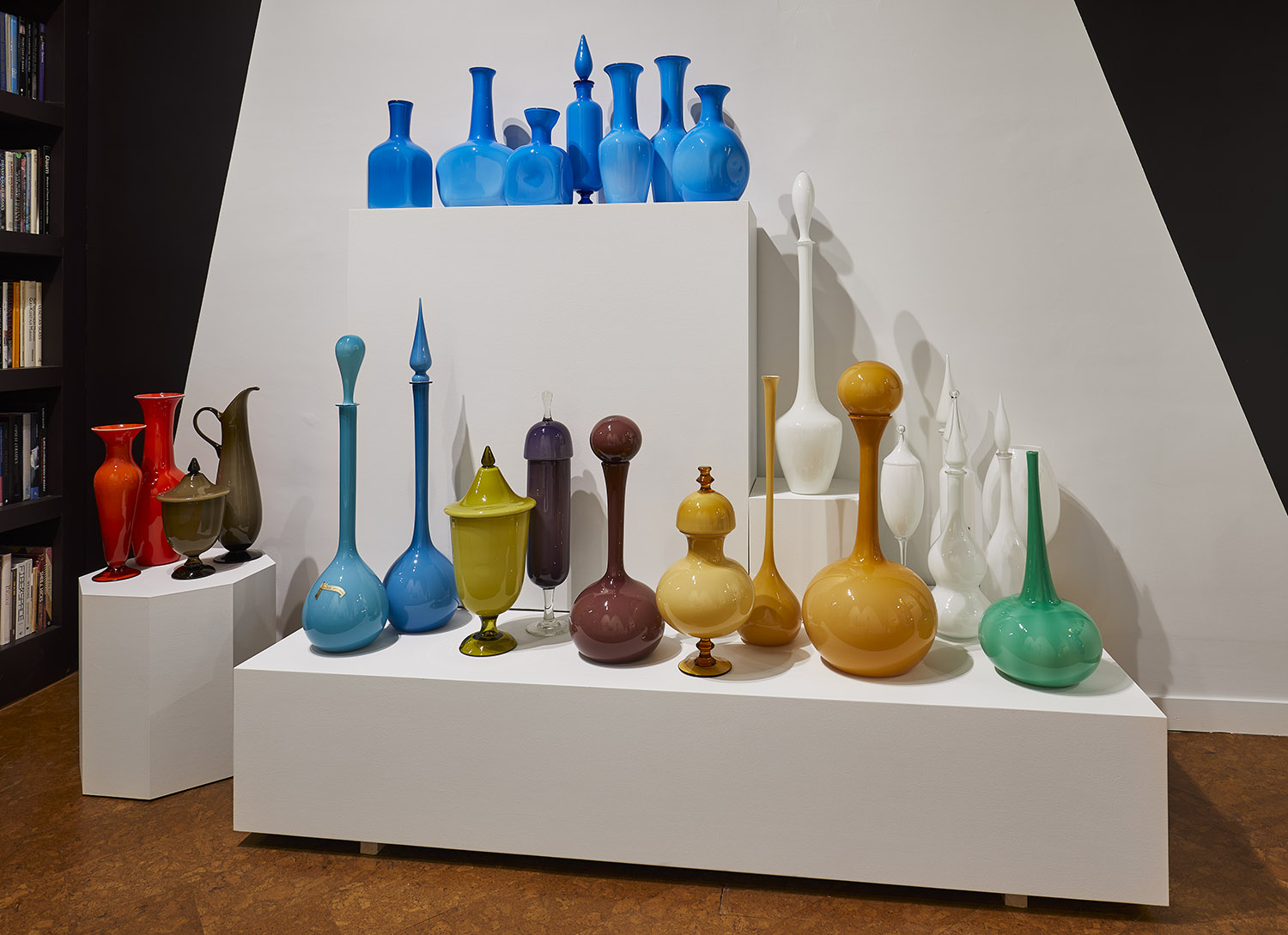 The American home décor industry took note of this success, and one New York sales representative in particular, Ed Rubell, took to fostering this style stateside by encouraging the Blenko Glass factory in West Virginia to produce competitive work. A fortuitous confluence of multiple factors saw the idea take root at Blenko. In this perfect fertile ground, the idea was taken to new extremes in 1954 by their bold young designer, Wayne Husted, a fresh graduate of Alfred University's renowned ceramics program. Wayne's ultimate and profound contribution to this story is his introduction of the massive "Architectural Scale" genre of glass shown in this exhibition. The comprehensive story of this range is recounted in the book "BIG COLOR" from which this excerpt:
"An artist at heart and in training, the defining theme of Husted's tenure at Blenko was his unspoken drive to create objects that could only be seen as works of art. …By altering scale to an extreme and unprecedented degree he struck on an enduring and compelling new genre that suited the modern era, one that unequivocally demands to be considered as sculpture. Architectural decanters and vases ceased to be mere decanters and vases; they are monuments to decanters and vases, sculptures in dialogue with architecture."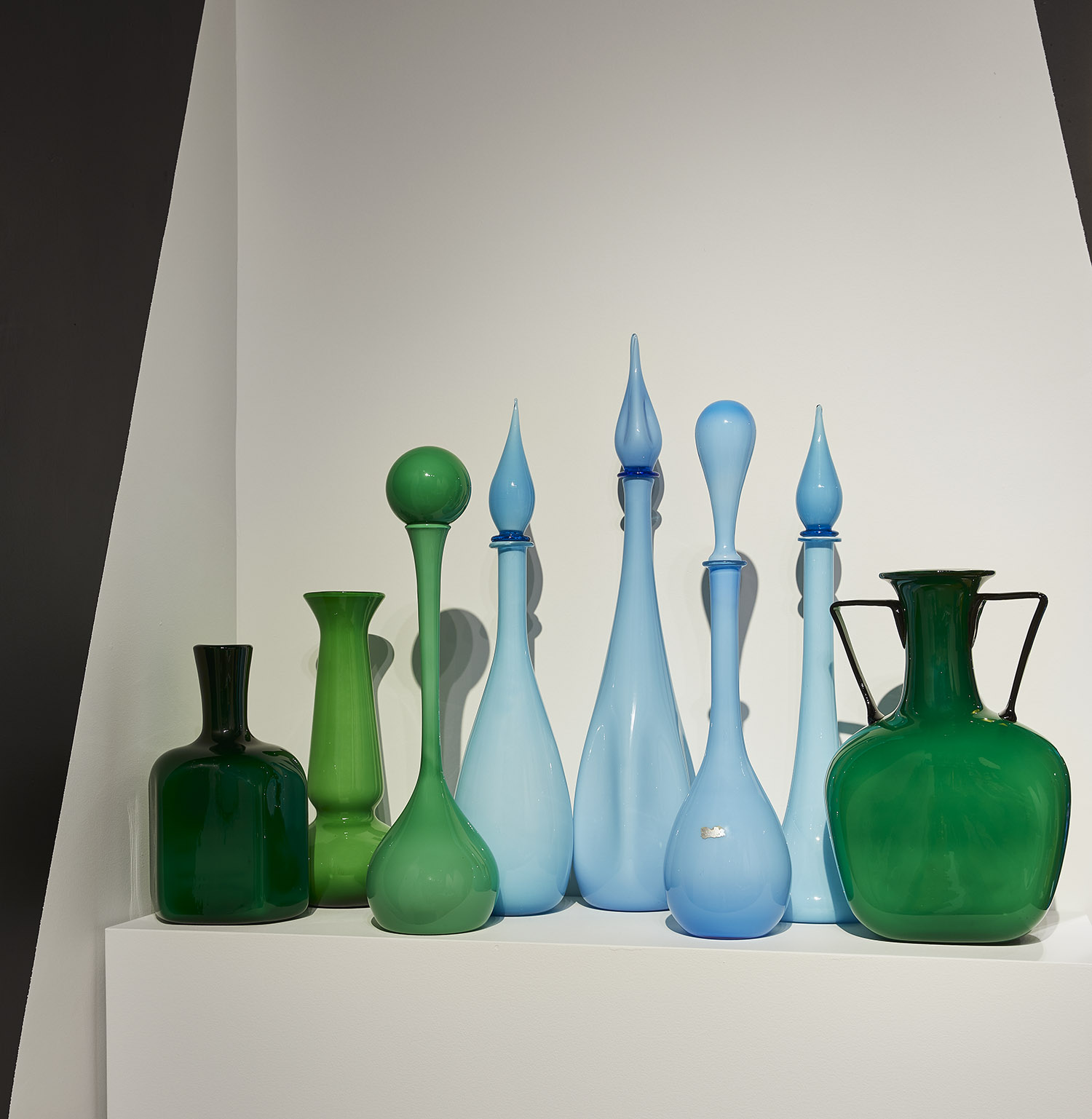 The exceptional series was produced between 1954 and 1974, numbering 43 original designs in total. Their common trait is that they are of a scale substantial enough, mostly over two feet tall and up to 46 inches, to engage directly with the architectural environment and its elements, like columns and stairs, unmediated by furniture. Ultimately, Wayne's successor, Joel Phillip Myers, also contributed fourteen designs to the series before leaving Blenko in 1971 to become one of the most influential early studio glass professors at Illinois State University. Joel's mature studio glass work clearly reflects the influence of his formative years at Blenko, with bold color and large scale as persistent themes.
Beyond even the direct line of connection from Empoli, to Blenko to Studio Glass, the influential presence of this the former two in major department stores, heigh end boutiques, the largest home design publications, and even multiple contemporaneous museum exhibitions seeded and primed an American audience for uncommonly BIG sculptural glass objects for the home.