(Dis)similar: Ane Christensen & Rachel David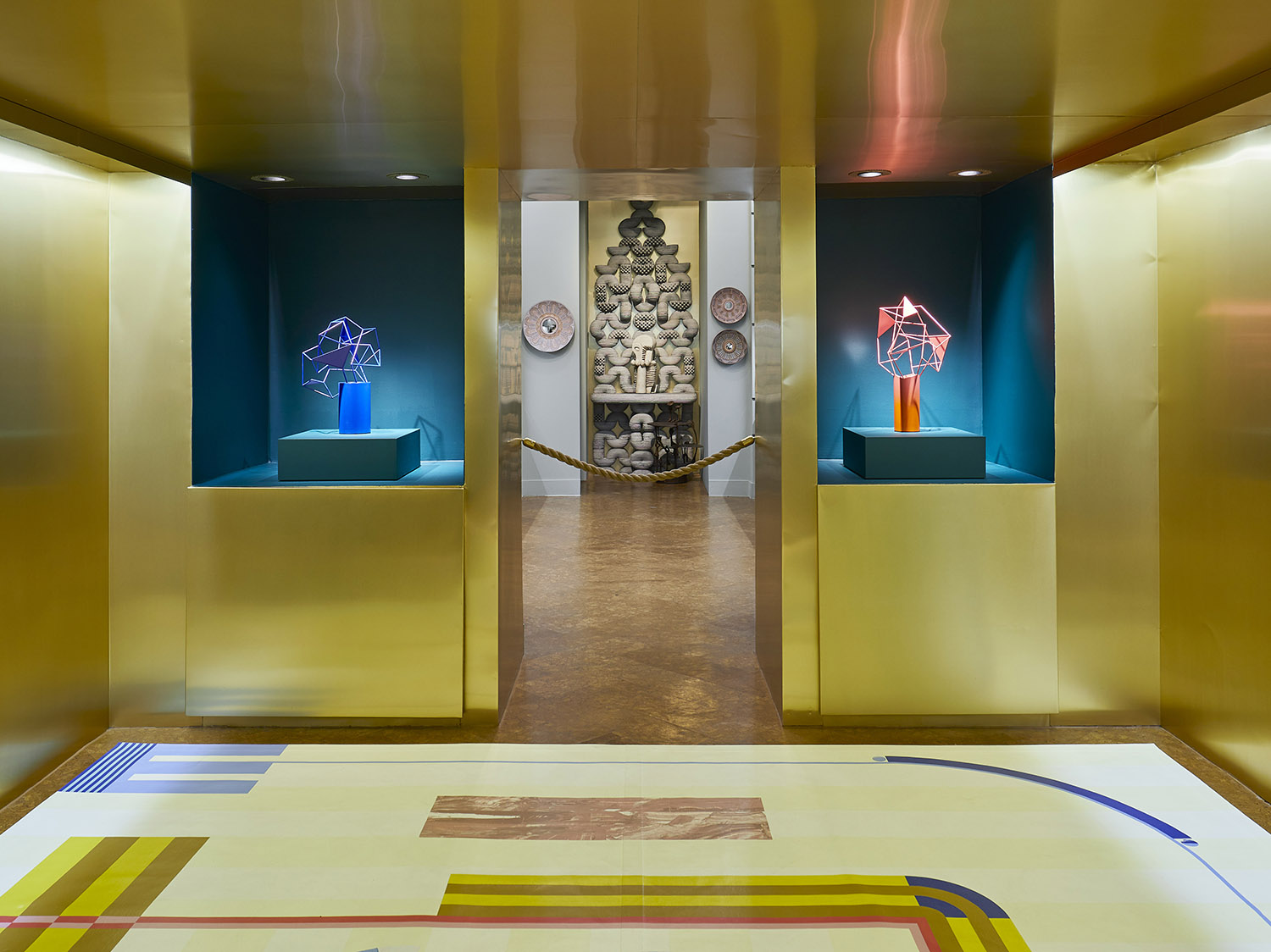 It would be hard to find two metal artists more perfectly equal in skills and achievement. It would be difficult to find two metal artists more perfectly distinct in technique, aesthetic, and approach. This study in contrasts is as noteworthy for the chasm between the two as it is for their independent and contemporaneous success in the medium of metal.
From London, Danish artist Ane Christensen brings to her work a predilection for precision and strategy, courtesy of her training as a jeweler. Ane's modernist back yard atelier, squeezed in among the row houses, is as much a private little laboratory as studio. There are no hammers involved in Ane's process, starting with a maquette, she constructs her well-planned forms from building blocks consisting of tubing, rods, wire, sheets and spun bowls. The artist's focus is on perfection of assembly, shaping and filing the parts to fit, then soldering them together seamlessly. Each element remains crisply defined in the final form, so that the viewer may mentally deconstruct the piece into is component parts. Ane succinctly characterizes the work, saying "There are no secrets, and nowhere to hide."
Formal concerns drive Ane's work and revolve around contrasting elements; a geometric base form is disrupted by lines. Basic and familiar forms interact with vague and diffuse ones. It is in the meeting of the two, their connection, that a symbiosis emerges, like a yinyang. In the new work presented in this exhibition, color appears for the first time since Ane's school days. This significant development buttresses the scale and presence of the work. While the basic form is of a large cloud of wire intersecting a solid cylinder, as if one is dematerializing or coming into form, the effect is that Ane has created a framing device for contemplating space.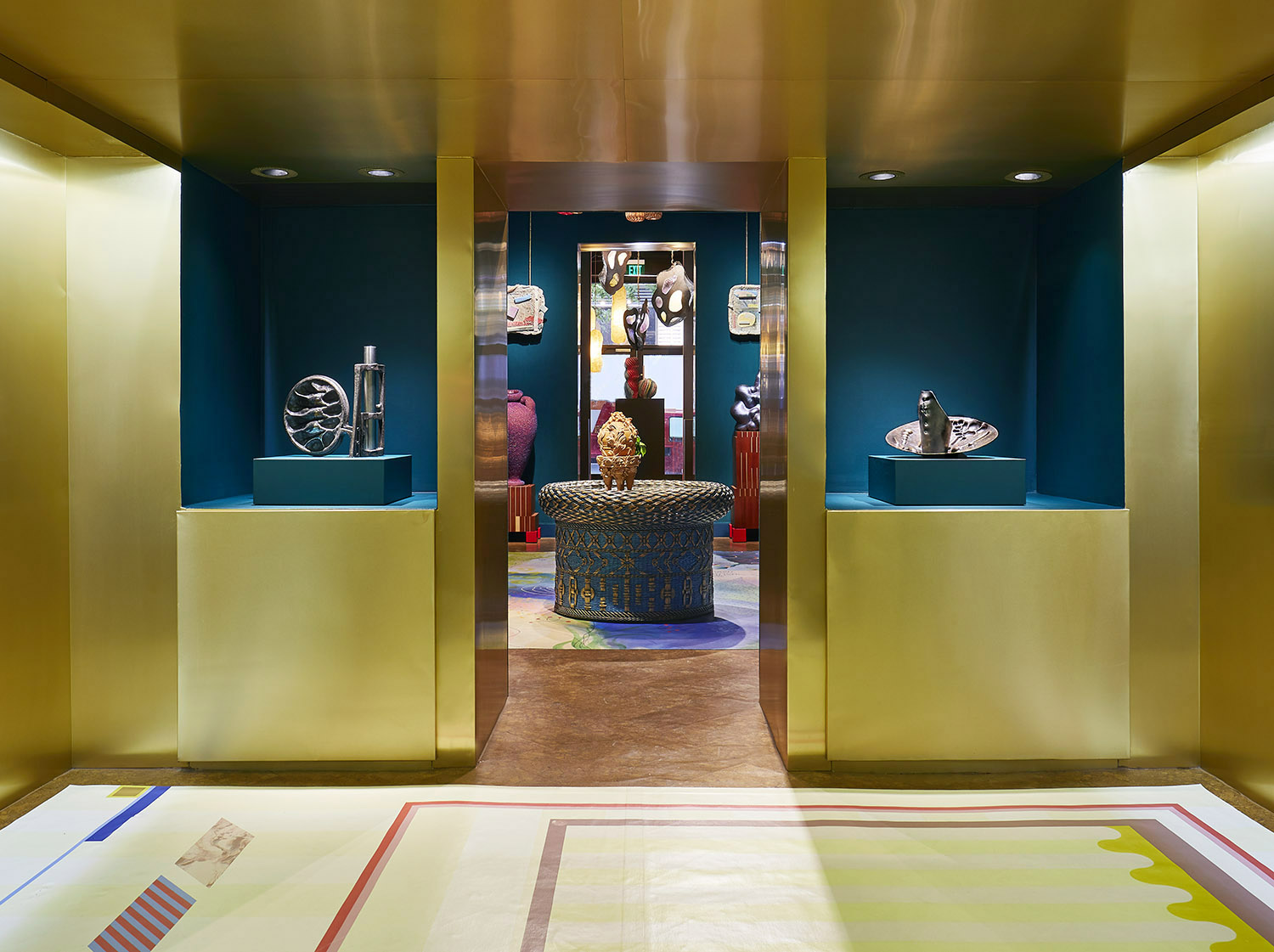 From Asheville, American firebrand Rachel David works like a storm of creative energy, steeped in lively culture of her once longtime home in New Orleans and her activist roots as co-founder of the Society of Inclusive Blacksmiths. Rachel's rural hangar-like studio thrums with activity, oversized machinery and boisterous friends and dogs.
For Rachel, concept and craft are coequals forces that merge in the creative action of physically manifesting an object. Particularly with the artist's repousse sheet work, flowing forms emerge fluidly in process, as with paint on canvas. Her exuberant and organic forms explicitly represent the energy and positivity that goes in to creating them. The artist says of her work; "The very physical and technically demanding process of forging and forming shapes in glowing radiant yellow steel is my passion. Through this process I address broader issues like body' and 'landscape' through the lens of social and environmental justice. Turning a dream of a form into the brutally hard reality of metal is a source of pride and identity that I strive to reflect in my work."
In the new pieces for the exhibition, evolution and experimentation abound. "Scales" is the artist's largest mirror to date and the first large work to incorporate polished selenite crystals. The title of the work references musical scales as a metaphor for developing skill and alligator scales as a tribute to her former Louisiana home and the power of the animal. The two vessels also revolve around expressive repousse work; one composed entirely of it, the other supported within a forged frame connecting to a tubular vessel that is also the artist's first instance of incorporating unaltered stock material into a finished work.
To see these the work of these two talented contemporary metal artists side-by-side is to recognize the heights and the breadth of work possible in this material that is at once ubiquitous in our modern world and rare as a form of creative expression.