Jian Yoo: A Special Presentation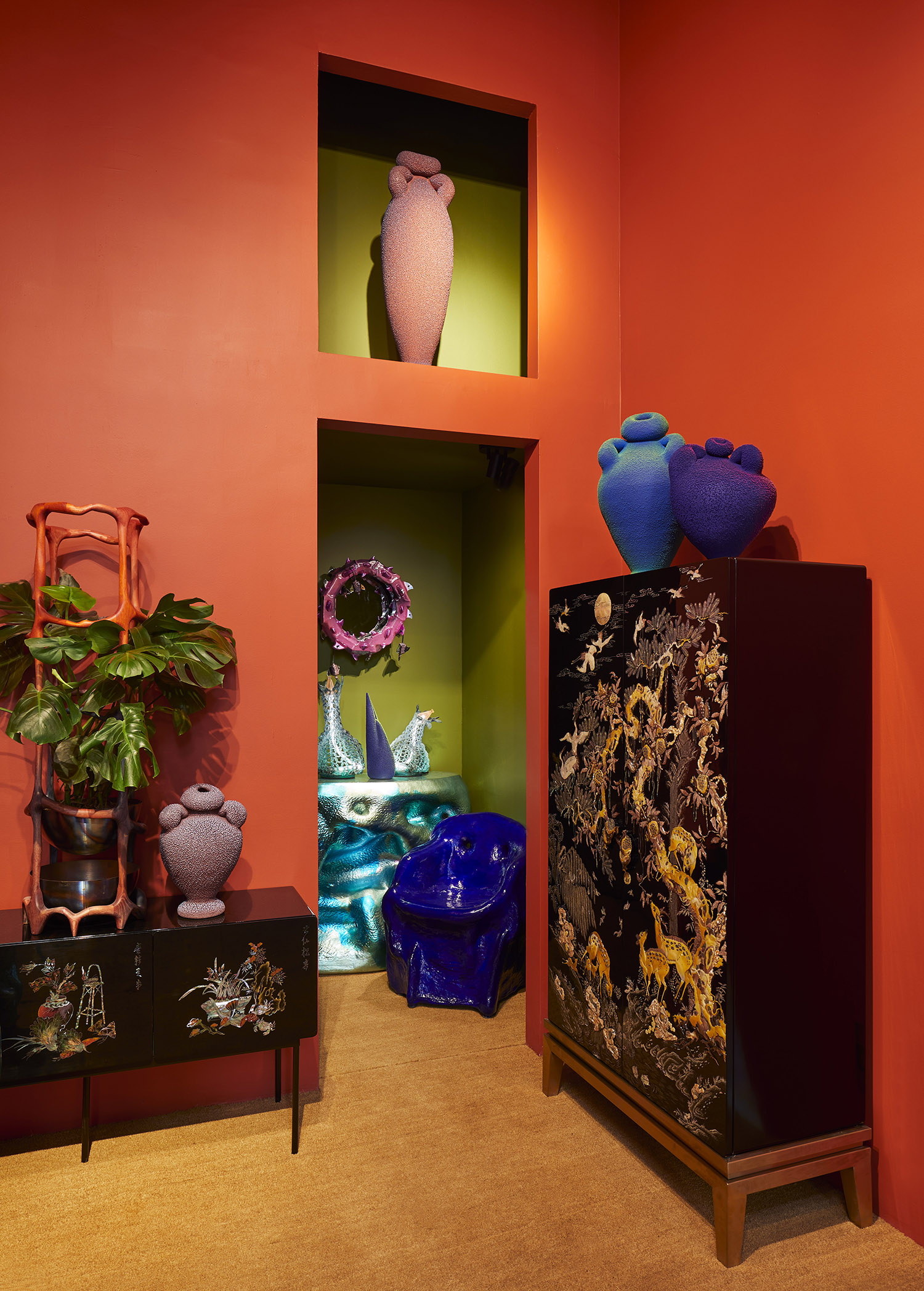 Tradition is the fountain of South Korean artist Jian Yoo's work; it is both a source and a force propelling her into new territory. Working in the precise and fine medium of mother-of-pearl, Jian's broad practice ranges several distinct yet equally creative ranges. Each range can be defined by how closely it hews to tradition in form, technique, imagery, and process. The body of work featured in the gallery this fall, focuses on Jian's most spectacular series, which bridges historical and contemporary work to the extent that it might be considered an inter-generational collaboration. To properly understand the cultural value of this work, one must first know the circumstances in Jian's life that lead to its creation.

In 1978, when Jian's father founded his Seoul studio, Yoosung Crafts, it was heady times for traditional mother-of-pearl work, with a strong and sophisticated domestic market for this heritage craft form. In this rewarding environment, the medium reached a new pinnacle of artistry and skill. Rich and elaborate panels of traditional scenes, icons and imagery were produced by his more than 100 artisans. When the global force of modernization reached full strength in South Korea in the late 1980's, new homes and lifestyles became less sympathetic to traditional forms and techniques. Mother-of-pearl, was always a sought-after and expensive luxury destined only for the wealthy, but in this moment of general economic prosperity it's value only increased, inspiring low quality commercial imitations which tarnished its appeal. As the market receded, Jian's father changed his focus, and hundreds of stunning panels were left sealed in storage along with a vast trove of high quality, wild-harvested nacre. As an endangered and protected material, new nacre is farmed, and lacking the variety, size, thickness, color, sheen and depth of the wild material. The hundreds of historical panels and raw nacre that Jian's studio now closely guards, is an unimaginable resource in today's world, and it is from this trove that the body of work we present here comes from.

Prior to opening her studio, Jian studied in New York at the Pratt Institute from 2004-08, where distance, and a different cultural perspective, helped her to realize that the medium of mother-of-pearl was ripe for rediscovery and revival. A few years after graduating, Jian returned to South Korea and worked alongside her father in his new mother-of-pearl studio. By 2013 Jian founded her own studio, Arijian, where her father now works with her as a mentor and director of the company. Every piece that comes out of Jian's studio is a product of her personal vision, whether she is working with new craftsmen to execute her designs or reworking historical panels into new forms. The fluidity between the two approaches is unremarkable to the artist, who sees both as part of the larger project of revivifying and adapting historical skills and work for a contemporary audience. Jian uses the historical work as a raw material from which to tell her own story and create her own vision of contemporary beauty. To do so, she has devised proprietary techniques for lifting historical inlay from lacquered panels, or cutting and reconfiguring the panels, so that she may reimagine the imagery and apply it to new surfaces and compositions. In a nod to tradition, much of Jian's work takes the form of cabinets and chests, but now in minimal and modern forms and sizes.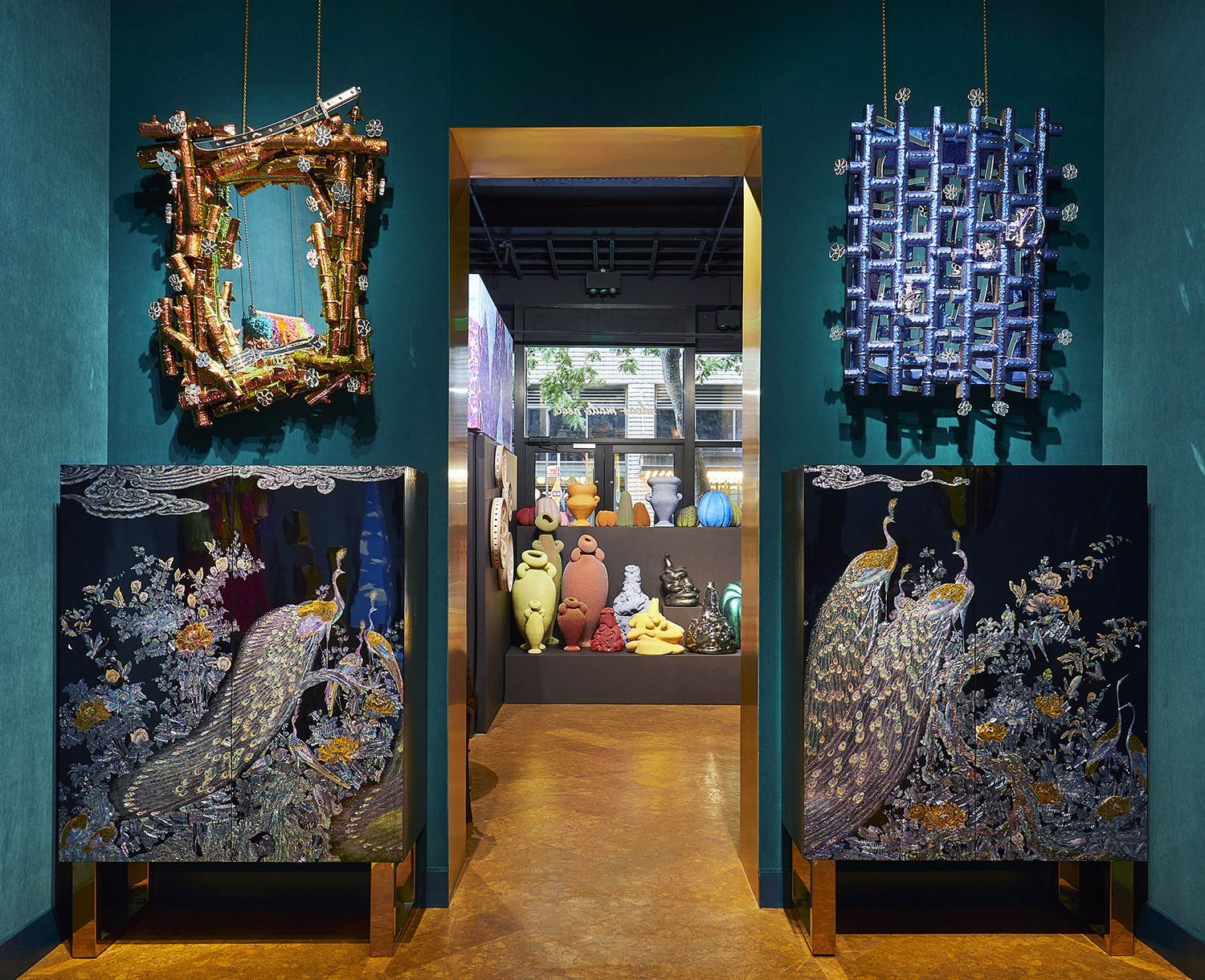 The four cabinets in this presentation are created with historical panels that feature a range of obscure and highly skilled techniques like maki-e (powdered and pigmented nacre applied as a paste) and deeply carved, thick, large sections of nacre. The spectacular and massive diptych cabinets "Rosegold Peacock I & II" feature a menagerie of birds, not only the six namesake peacocks, universal symbols of good fortune and beauty, but also cranes, birds, and butterflies, frolicking in an impossibly fantastical bed of flowers and greenery rendered in shimmering silvery-blue, green, purple, pink, and orange. Whisps of traditionally stylized clouds hover above, enhancing the magical impression of an ethereal mirage. The cabinet "Superb Nature" would have made Disney blush for its superior Fantasia-like scene; doe and deer serenely bask in the shade of magical looking bonsai-like fruiting tree. A cascading waterfall drapes in the distance while cranes circle a full moon in the ink-black lacquer sky. If it's all too much, you can focus on the Art Deco influenced iconography of "Pearl Wears Color", the four-paneled maki-e credenza with each door featuring a graphic central medallion composed of traditional symbols of the good life. The structured but flowing symbolic compositions of prized food, plants, and flowers in vases conjure as proud a celebration of bounty as one of Dutch artists Abraham Mignon's famous 17th century still life painting.

Together, these four cabinets, accompanied by a range of smaller lacquer inlay boxes, a side table, Gold Got Vases and a new series of Black Got Vases, represent the largest presentation of works by Jian Yoo to be shown in America. The diptych cabinets Rosegold Peacock are being introduced as part of the group exhibition "Transcendental Objects" in the main gallery, with the other works on view in the front and Archive galleries.

Damon Crain