Vase #942 in Chartreuse,
designed by Winslow Anderson in 1950.
Oviod vase with horizontal indentations
creating a "pleated" effect.
Measures 13 inches tall x 7 inches diameter.
Inquire: info@cultureobject.com
This beautiful, diaphanous, vase fits neatly into an important range of designs in which Anderson explored various organic techniques for shaping glass. The methods Anderson explored include indenting (below), constricting, gravity-induced 'wilting' and in this example, collapsing.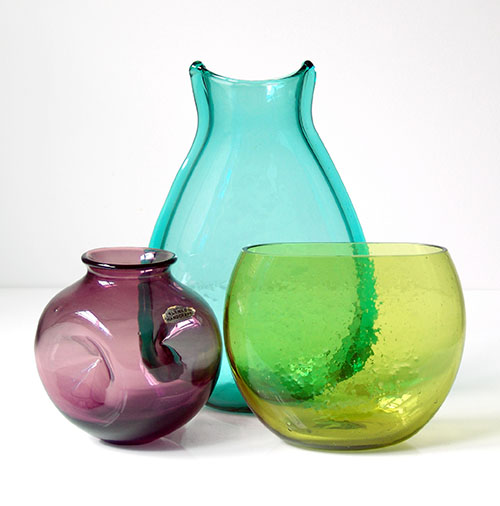 This particular design played an important role in Anderson's realization of design possibilities resulting from the natural tendencies of glass, as documented in his 1948 essay "Off-Hand Glass for Production" (catalog image below)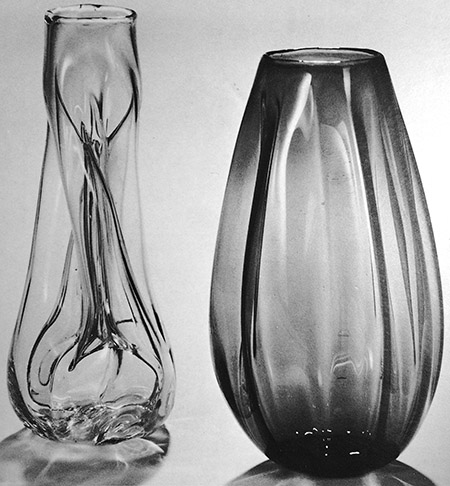 "This piece was begun as a 'regular procedure' vase but when it was nearly finished the glass worker noticed an imperfection in the glass itself. There was no purpose in completing it so the glass blower decided to scrap it then and there. However, in order to reduce the size of the piece before putting it on the scrap barrel, he sucked some air out of it in order to deflate it. I happened to observe the effect of the collapsed glass and asked him to inflate it again and save the piece of future reference. As a result, a new type of optical effect was created."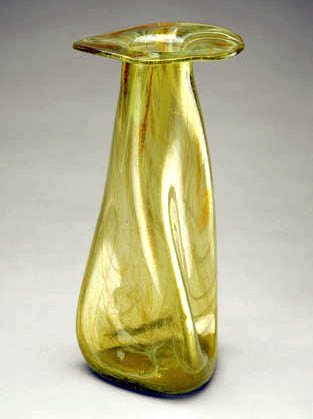 The result bears both a conceptual and aesthetic similarity to the more extreme examples of Christopher Dresser's (1834-1904) "Clutha" glass (above) manufactured by James Couper and Sons in Glasgow, Scotland around 1885-89. Clutha (meaning cloud) was meant to emphasize the liquid nature and fluidity of glass. Both Dresser and Anderson shared an interest in producing well made and accessible modern design. While Dresser was radically ahead of his time, Anderson was right on time in creating an organic yet streamlined style and technique that can easily be seen as a successor to Dresser.
Only about a dozen extant examples are known, three of which are owned by the estate of Winslow Anderson, destined for the collection of the Huntington Museum of Art. Anderson preserved examples of his favorite designs and ones that he considered important – it should come as no surprise that this vase belongs to that rarified group.