Measures 18 inches tall x 7.5 inches wide x 4.25 inches deep
Inquire: info@cultureobject.com
#6822 in Olive Green with Turquoise coil; designed by Joel Philip Myers for the Blenko Glass Company in 1968, made for 1 year only.
This rare flattened ovoid decanter with applied coil and lollipop stopper belongs to an extensive series designed in 1968 that was the second iteration of the coil them. This particular series is distinguished by a coil color that contrasts with the body color of the vessel. The large series consists of twelve all but two of which terminate in highly fluted or ruffled openings – this design is the only one to terminate in a flanged top, also a detail employed by Myers in a number of designs.
As with the controlled bubble technique, the applied coil is a proxy for Myer's interest in decorating the vessel but here represents a half-way point to his signature technique, marquetry de verre (example below). The form is also noteworthy for its flattened profile; this flattening of the round vessel also became an important signature motif in Myers' studio work as he attempted to turn the vessel into a canvas that he decorated. Several major themes collide within this one decanter. Simply put this design is the strongest example within the second coil series and as such the clearest harbinger of Myers' future studio work.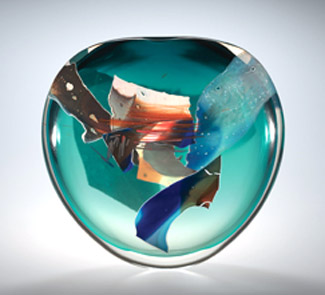 Above: Joel Philip Myers studio vase, Contiguous Fragment series, 1990, collection of the Corning Museum of Glass