Decanter #6820 in Tangerine, designed by Joel Philip Myers in 1968, made for 1 year only.
Measures 11 inches tall x 7 inches diameter.
Inquire: info@cultureobject.com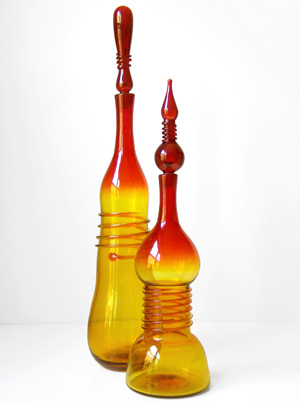 Above: related Myers coil decanters.
This decanter is an excellent and unique example of Myers' use of applied thread-like elements, among his most successfully exploited motifs. Myers first introduced the motif to his repertoire in Blenko's 1967 line with a handful of shapes wrapped in coils; perhaps the most dramatic of these designs being the constricting coil decanters (photo at lower right). In 1968 he reprised the motif much more extensively and systematically with a series of shapes that, for the most part, incorporated coils on top of ruffles.
An inclination to exhaustively explore a motif was very much within Myers' methodology at Blenko, and occasionally, as here, unique permutations with particular poetry arose. Whereas his 1967 series had threads of glass coiled around a design, like a vine growing up a tree, here the threads of glass are applied and curled like the tender tendrils of a vine. This decanter represents the only instance in which the threads of glass were applied in a raised and sculptural manner, again invoking the plant-like look of the constricting coil designs but in an entirely new way. No other design of Myers' exhibits such sculptural raised elements which so dramatically evoke the molten glass in suspended animation.
The design of this decanter clearly evokes the baroquely organic Art-Nouveau aesthetic that was, in the 1960's, being revisited by many cutting-edge designers who were partly inspired by the era's psychedelic imagery. This shape in fact bears marked resemblance to the work of Emile Galle in both glass and carved wood (see image below) not to mention Louis Majorelle and Antoni Gaudi. I very much believe that Myers, a well educated designer, was informed and inspired by these historical precedents to create this unique new form.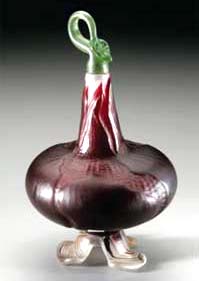 Above: rare Emile Galle 'Red Onion' wheel carved cameo vase with a marquetry glass foot, a removable leaf-form stopper and an engraved signature to the side, circa 1900.