Measures 18.75 inches tall x 3.5 inches diameter.

Inquire: info@cultureobject.com
Decanter #6732S in Honey, designed by Joel Philip Myers in 1967, made for 2 years only.
This design is represented in Tangerine in the collection of the Yale University Art Gallery
One of the most elaborate and dramatic decanters that Joel Philip Myers ever created for the Blenko Glass Company. The design perfectly embodies Myers' 1960s psychedelic re-interpretation of the Art Nouveau aesthetic, with masterfully exaggerated organic forms. To read the following quote of Myers' on his glass design process at Blenko is to conjure an image of this design: "I permit the glass to sag, flop, flow, stop, start, stretch," he said. "I control and yet am being dictated to by the glass.."
A virtuoso design like this demonstrates the exceptional talent of Mr. Myers and makes clear why he is today considered a founder of the Studio Glass Movement. In fact the elaborate profile first seen here is a motif he subsequently explored many more times in his mature work (see image below).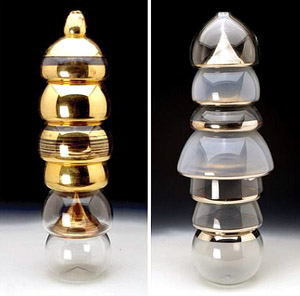 Above: Joel Philip Myers, studio glass work "Dr. Zharkov's Gold One & Platinum One" from 1973, 22.4inH x 8in.W