Decanter #6711S by Joel Philip Myers
Measures 12.75 inches tall x 6 inches diameter.
Inquire: info@cultureobject.com
below, small and large size of this design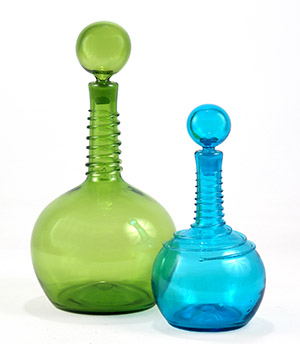 Decanter #6711S in Tangerine, designed in 1967 by Joel Philip Myers for the Blenko Glass Company, made for 2 years only.

Large decanter with ball base & tall chimney neck with coil wrapped around neck, terminating at upper body of the decanter base.
For a brief period, around 1967/68 Myers developed a penchant for elaborating designs with applied details. Among the most successful and renowned results of this penchant is the "Constricting Coil" series which consists of only five shapes, including this decanter. This is the larger and significantly rarer of the two versions of the design, and it is worth noting that in the larger example the "coil" never extends onto the ball body of the decanter, thus enhancing the visual effect of "constriction."
The series is among the best designs that Myers produced during his tenure at the Blenko Glass Company and beautifully exhibits his facination with dramatic and complex organic forms. To quote a from my own articel in Modern Magazine, Myers' "work at Blenko demonstrates an exploration of organic form and clearly revels in the 1960's psychedelic re-interpretation of the Art Nouveau aesthetic."
The Constircting Coil series exquisitely recalls the complex sinuous lines of Galle, (below) Majorelle or Gaudi. The central coil like the tendons of a vine constrict the body of the decanter, a treatment mirrored in the teardrop stopper to great effect. It is precisely such organic forms that are so ideally suited to glass design, emphasizing the flowing liquid nature of the metal. Of course Harvey Littleton and the other early studio glass artists knew this (and Dale Chihuly later exploited) but none had yet coaxed this flowing metal so beautifully, other than Joel Philip Myers.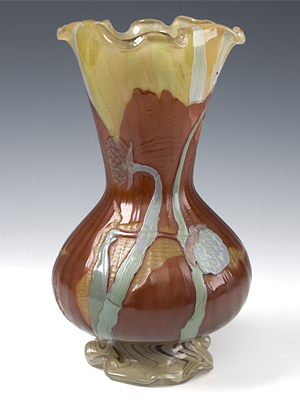 above: A French Art Nouveau "marquetry" cameo glass vase by Emile Gallé, featuring the depiction of magnolia blossoms in carved marquetry glass against a reddish and cream ground, with ruffled top and foot. The vase was exhibited at the Paris 1900 World Exposition.
image courtesy of Macklowe Gallery, New York
below, related Constricing coil designs