Vase #582 in Jade, designed by Wayne Husted in 1958, made for 1 year only.
Signed with the rare hand-engraved "Blenko ©" in script.

Goblet form vase in the shape of two inverted cones,
from the "Echoes" series.
Measures 15 inches tall x 5.55 inches diameter.
Please email for pricing: info@cultureobject.com
With forms as elegant as the name, the Echoes series vases are among Wayne Husted's most powerful designs. The poetic name beautifully evokes the simple concept that underlies the three designs, shown below; the lower half is an extenuated reflection of the top. These monumental vases at once evoke the traditional chalice-form while updating it with the restrained pure geometric forms of modern design.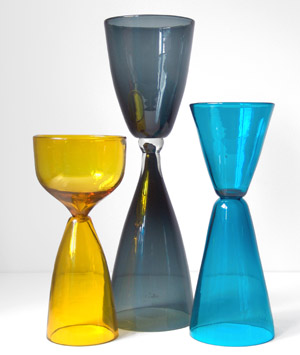 Husted has often cited the influence that Scandinavian design has exerted on his work and in this series both a precedent and antecedent clearly demonstrate the synergy his work shared with the Scandinavian aesthetic. In 1954, designer Ingeborg Lundin (Sweden, 1921-92), working for Orrefors, won the Lunning Prize for a strikingly similar concept (below). Her delicate, extenuated, symmetrical and smaller-scaled vase employs the same geometric composition to very different effect.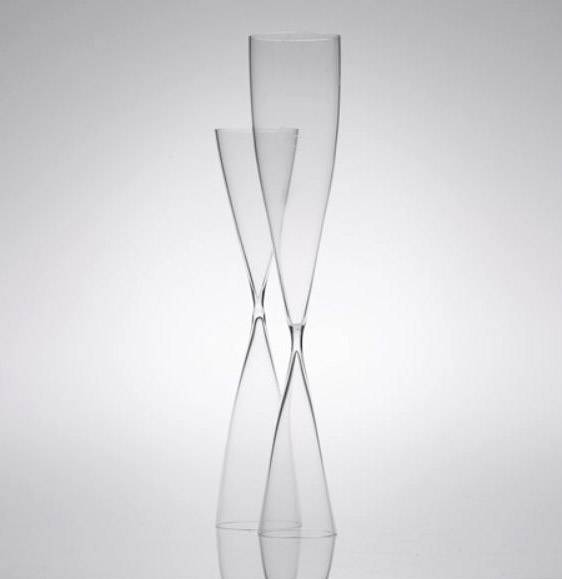 Subsequently, in 1966, Finnish designer Tapio Wirkkala (1915-85), working for Venini, introduced a vase and goblets called 'Ai lieti calici' for the Venice Biennale (below). While the base of Wirkkala's design is not hollow the essential construction of the reflected conical forms demonstrates a shared aesthetic language.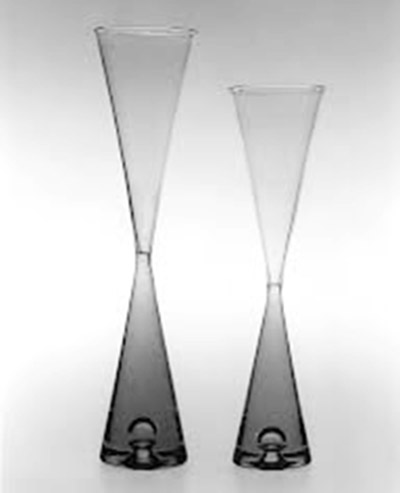 On par with the two Scandinavian designs, Echoes has also received significant critical acclaim. This design was included in the 1958 exhibition "DH '58: Design for the Home" at the Brooklyn Museum of Art (exhibition image below) along with the larger 583 Echoes vase which is also represented in the collection of the Corning Museum of Glass.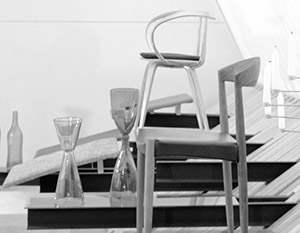 Both designs are also published in Glass magazine's fall 2003 feature article as important examples of the work of Wayne Husted.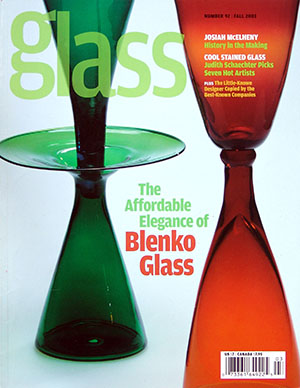 above, magazine cover.
below, image illustrating article featured on cover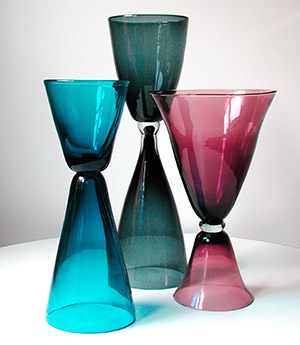 The beauty of this exceptional design is matched only by its extreme rarity. Each vase in the series was produced for only one year and in addition the Jade color of this example was also produced only in 1958 and is the only color that Blenko every produced by encasing two different colors (Teal and Emerald). Designs in Jade have been acquired by two museums; the Corning Museum and the Toledo Museum of Art.