Bowl #558 in Chartreuse,
designed by Wayne Husted in 1955, made for 2 years only.
Measures 5.75 inches tall x 8.25 inches wide x 9 inches long.
Q: When is a bowl not a bowl?
A: When it is Wayne Husted's design #558.
This striking sculptural form by Wayne Husted leads a double life as an eminently functional bowl. A noteworthy historical parallel to this profile exists in Isamu Noguchi's famous table for Herman Miller from 1948. The similarity is not primarily aesthetic as it was the shared philosophy of both designers that brought them to related conceptual and physical conclusions. Asymmetrical and amoebic forms, protrusions and voids, these are the sophisticated compositional elements at play in both exceptional design. While Noguchi famously declared that "Everything is sculpture," Husted's work is evidence of the same attitude.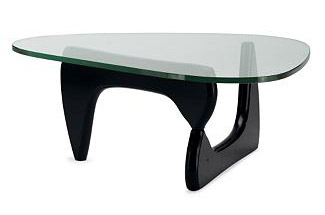 Herman Miller commissioned Noguchi to design a table after having seen the one that he created for the home of the president of the Museum of Modern art (below). This original design, known as the Goodyear table, underscores the importance of the projecting, buttress-like quality of the leg to create the dynamic form (this table sold at auction in 2014 for $4,450,000).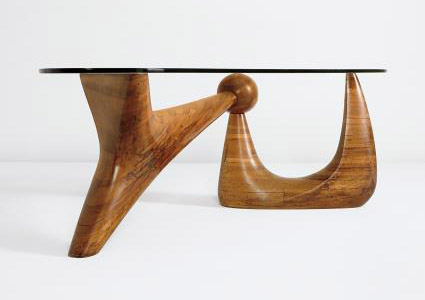 While it is tempting to imagine Husted drawing direct inspiration from Noguchi, one can in fact see in Husted's own work how the design evolved from a shape he created in 1954, design #5413 (below). Both forms show an interest in stabilizing a bowl with a projecting leg, coupled with a surface treatment that emphasizes the sculptural form.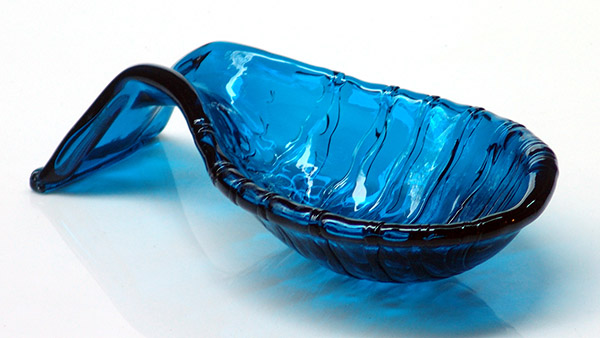 Clearly capturing the fanciful nature of the design, many collectors refer to it by its appropriate nickname 'the high-heel bowl.' Discussing important design in the Blenko Museum's collection, the 558 was cited by the museum founder, Bill Agle, in an article in Antiques & Auction News: "the most unusual piece in the museum's collection, is a five and one-half-inch tall 'high-heel' bowl, catalogued as an asymmetrical sculptured form and designed to be used to hold fruit or flowers." It is worth noting that this design is also represented in the important glass collection of the Toledo Museum of Art.
Inquire: info@cultureobject.com