Vase #551 in Sea Green, designed by Wayne Husted in 1955.
This massive vase belongs to a series of three designs in which Wayne Husted made use of applied and embossed medallions. When asked about this design during an interview, Husted lit up and remarked on the extravagance and freedom of the piece - clearly and deservedly amused by the recollection of his own ingenuity.
below: all three embossed medallion designs with 1956 free-form medallion second from left.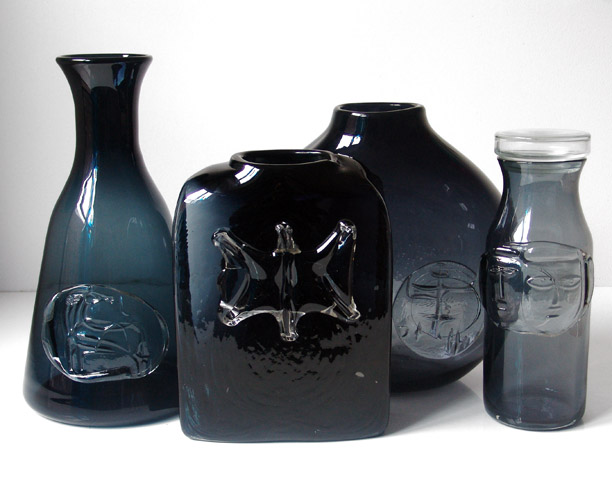 While the round and flattened body of the vase echoes, and thus emphasizes, the form of the medallion, the bold angular line drawing on the medallion contrasts with the fluid and irregular body. Both the contrast and the compliment serve one purpose; to focus attention on the medallion.
The monolithic body of this vase functions effectively as a canvas, a mere support for showcasing the applied medallion embossed with an unusual abstract line drawing. While the other two medallion designs in the series depict figurative elements (a horse and two people) here, Husted explores a purely abstract composition that clearly evinces his fascination with the artist Paul Klee.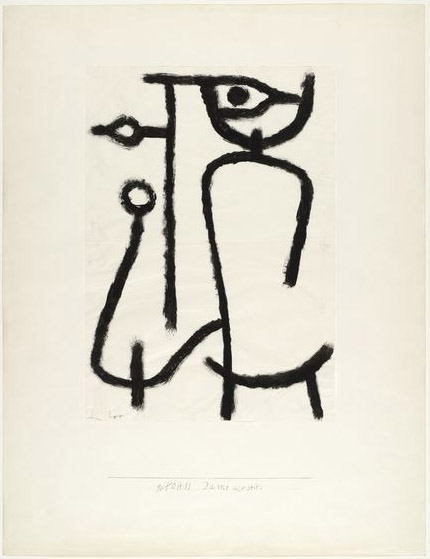 The tight, gestural linear abstraction of the medallion design, vaguely anthropomorphic, is fully deserving of its place of honor on the face of the vase. This artwork-on-a-vase is an obvious visual metaphor for glass as art and is one among many of Husted's early premonitions of the revolution to come that was American Studio Glass.