Architectural scale decanter #6535 in Honey, designed by Joel Philip Myers in 1965.
Architectural scale decanter with bulbous center body and teardrop stopper.
This enormous floor decanter was designed by Joel Philip Myers in 1965, in the second year of his tenure at the Blenko Glass Company. Very few other designs make such an impression for their massive scale - clearly Myers was interested in pushing the envelope in those regards. Measuring three and a half feet tall (42 inches) and 10.5 inches diameter this is one of the three largest designs that the company ever produced.
But by no means is size the end of the story with this design. The undulating, voluminous form is a singular example of Myers' understanding of organic shapes. Myers' best work betrays the influence of the 60's psychedelic revival of the Art Nouveau aesthetic. The sinuous, tapering teardrop profile results in a massive piece with remarkably graceful and light presence. Similarly, the signature Turquoise blue color is a perfect compliment to the bubble-like form of the body, further enhancing the design.
This design was recently aquired by the Toledo Museum of Art, along with four others, to represent the Architectural Scale designs of Myers' - photo below.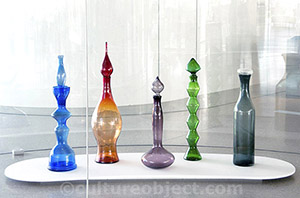 Measures 42 inches tall x 10 inches diameter.
Inquire: info@cultureobject.com