Architectural Scale Spool Decanter #587L in Jonquil, designed by Wayne Husted for the Blenko Glass Company in 1958. Signed
Measures 36.75 inches tall x 6.5 inches diameter.
The 'Spool Decanter' is one of only fifteen designs to have been given an official name. In thiscase, the evocative name hides more than it reveals. Of all Wayne Husted's designs, this is perhaps the most evocative of a work of modern art of the era. Constantine Brancusi's monumental "Endless Column" sculpture (shown below), was not doubt familiar to Husted, with his advanced Fine Arts education at Alfred University.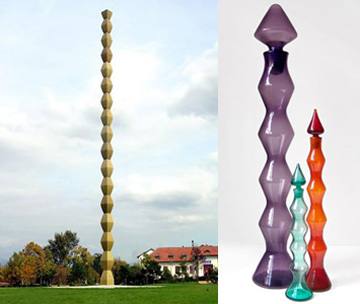 This is not to say that the spool decanter is a tribute (it is not), but rather to vividly demonstrate that great minds can come to the same conclusion under similar circumstances. In fact, the inspiration for the form, related by Husted in interviews, was the wooden spools on the headboard of his bed.
Brancusi (1876-1957) was a pioneering abstract sculptor; his work explored graceful and reductive forms. Husted, in his work for the Blenko Glass Company was also exploring, for aesthetic as well as production reasons, the same kind of archetypical geometry. A similar conclusion was reached by both artists.
In glass two feet tall or in metal 96 feet tall, this rhythmic "spool" form has a visual and visceral impact. That Husted and Brancusi both essentially came to the same conclusion is an undeniable testament to the artistic relevance of the designs of the Blenko Glass Company's Historic Period designers.
Inquire: info@cultureobject.com